Blending elegance with functionality using sustainable and recycled materials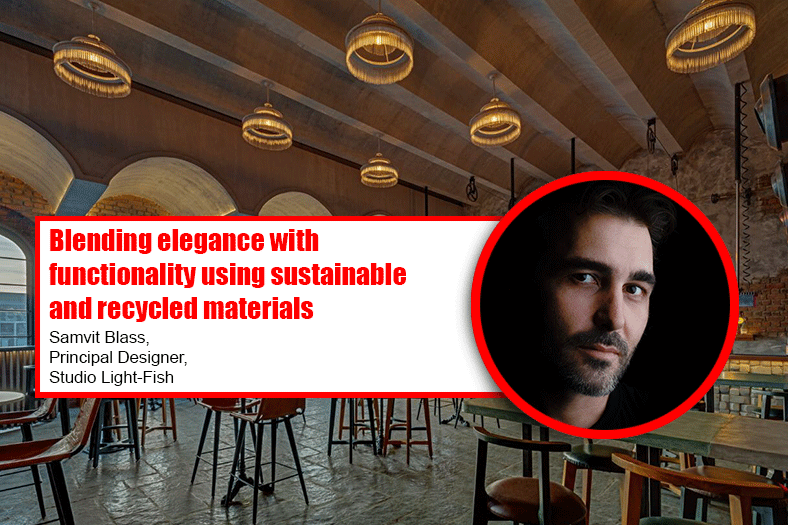 In a freewheeling chat with Vikas Bhadra, Designer Samvit Blass says the crux of his design philosophy is based on use of sustainable and up-cycled materials as well as minimizing waste.
Who am I?
I was born in 1979 from a French mother and a German father who had recently left Europe to join Auroville, inspired by its ideals. I grew up bathing in a spiritual atmosphere of innovation, creativity and sharing. As a child I already felt the passion for building and creating things. For someone immersed deeply in perfecting the art of creating, the door to professional bliss was via architecture. While starting my studies in architecture at Massachusetts college of Art in Boston, I was exposed to a Product Design class, vibrating with ideas and I realised this was what I wanted to do. My intimate association with the finer aspects of product design led me to work closely with leading design companies like BMW-DesignWorks, A2 Design Inc. and Ideaz USA. Later I also taught design at Raffles University, in Shanghai and Mumbai. After gaining experience as a designer and then a design teacher I felt ready to start my own design company.
The idea of good design
For me, good design is when products manifest a precise blend of form, function and aesthetics in an eco-friendly way. When I was working in the west for well-established design companies, the focus was to maximise the perceived value of the product through design. Often materials like plastic were made to look like stainless steel or other expensive material; production was always in large numbers and almost always made in China. If a part of a product we designed broke, there was no way a consumer could repair it and it would be thrown away. I became acutely aware of the problems of sustainability and when I moved back to Auroville my focus changed. Our design philosophy is to use sustainable and upcycled material and to minimize waste. Our designs are made to last and are energy efficient. They are a blend of elegance and functionality, expressed through precision and quality.
The context of good design in light design
Unlike Pure Art, Design has a strong focus on form and function. Aesthetics connect to people on an emotional level. People purchase my lights to illuminate both their emotional and physical space. The question a designer should ask is not 'how do you feel about the product' but rather 'how does the product make you feel about yourself?" Do the values of the product reinforce the values of the user? This shift in focus helped me to dig deeper into the emotional connection the user has to the product. Reduce, Reuse and Recycle is the mantra we use. I believe this is what has connected with our customers and has kept customers coming back.

The initial days of my journey
I worked with Paolo Tiramani and later with Lou Henry who both have had a lasting impact on my design thinking. While working under Paulo Teramani, we offer consultancy services for large tool companies like Stanley, Zac and Black and Deckor. The products we designed were innovative, raged and utilitarian. In contrast, working with Lou was more focused on the design finesse of the products. Some of Lou's products are permanently showcased in the MOMA museum as an example of how beauty and functionality can be brought together to create a compelling product that sells.
My role models
Elon musk may not be considered strictly a designer but certainly an innovator and I find him to be an inspiration in my design thinking. His vision is brave and goes beyond designing of a product and includes the design of the entire production of the product itself, a challenge vastly more complex. Having that deeper understanding and control over the entire system has allowed him to leapfrog his competitors. The challenges of product design One of the challenges for me is to truly manifest sustainability in a product. Even though the bulk of the material comes from local sustainable grown forest and the electricity in production is from renewable sources, many of the components like LED drivers, cables and switches all contain a use and throw philosophy, in that it is cheaper to replace than to repair. Sometimes, I debate whether new modern technology fulfils its promise to be more sustainable. As products become increasingly complex they become equally difficult to fix and maintain resulting in more waste. Being more energy efficient alone is not enough. For me the three pillars of a good sustainable product are eco-friendly materials, durability and energy efficiency.
7