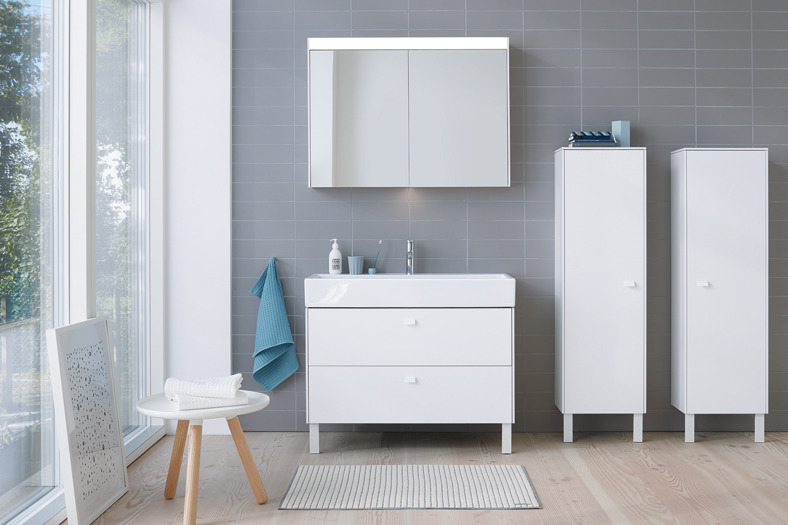 The Brioso bathroom furniture range is a refreshingly contemporary approach to bathroom design, offering varied individual design options and excellent value for money
Duravit has worked with designer Christian Werner to come up with a range of furniture that does justice to the notion of "Brioso" – representing relaxation, freshness, and joie de vivre in a contemporary bathroom interior. Its distinctive features include precise, finely nuanced geometry produced by slender cabinet frames that form the edges of the furniture, mirrors, and mirror cabinets. A further distinctive feature are handles and feet that can be supplied in the cabinet colour if required, offering functionality without impacting the overall design. Those who like a more striking look can choose handles – and even the legs – in chrome, potentially also combined with real wood finishes. The varied and customizable Brioso design options are excellent value for money.
The range has presence whilst also being reserved – yet another reason why Brioso can be so easily combined with a wide range of design series such as Vero Air, P3 Comforts, ME by Starck, Starck 3, and D-Code.
The washbasin vanity units are available in up to five different widths (400-1300 mm). This also enables practically asymmetric, half-open furniture to be created that further emphasizes the fresh look of the range.
The Brioso furniture range is part of the universal console program for even greater design freedom. The furniture consoles come in two different thicknesses (30 and 45 mm, each with a variable width) and two depths. They can be combined with vanity units in widths of 30 to 80 cm and console washbasin vanity units of 62 to 100 cm. All furniture comes with the option of one or two drawers. The tall cabinet and semi-tall cabinet in widths of 420 or 520 mm offer yet more storage space.
A total of 15 finishes are available in various decors, real wood veneers or lacquers (matt and gloss), including new, on-trend tones such as matt light blue and matt concrete gray as well as a linen-look decor finish.
Floor-standing variants underline Brioso's balanced proportions. Like the handles, the furniture feet are available in chrome or the lacquer furniture colours.
The matching mirrors and mirror cabinets have a 60 mm-wide, 300 lux-strong LED edging light at the top. Wash area lighting, dimmer function, and mirror heating have a contact-free control. The cabinet trims fitted to the sides can be ordered to match the colour of the finish and round off the fresh overall effect of the series.
In addition, Brioso sports a further design feature to appeal to the sense of touch: As a stylish solution for the wash area, the Vero Air washbasin is also available as a c-bonded version in conjunction with the Brioso vanity unit. In a complex and patented process, the furniture washbasin is connected almost seamlessly to the vanity unit.
Duravit AG
Founded in 1817 in Hornberg in the Black Forest, Duravit AG is an international manufacturer of designer bathrooms. The company operates in more than 130 countries worldwide and stands for innovations in the fields of signature design, the intelligent use of technology and premium quality. In cooperation with high-profile international designers, such as Philippe Starck, EOOS, Phoenix Design, sieger design, Kurt Merki Jr., Christian Werner, Matteo Thun and Cecilie Manz, the company develops unique bathrooms that really enhance quality of life for users on a sustained basis. Duravit's product portfolio comprises sanitary ceramics, bathroom furniture, baths and shower trays, wellness systems, shower-toilets, faucets and accessories as well as installation systems.
For more details, visit www.duravit.in
6