Building Envelops: Serving a Purpose Beyond Aesthetics
Since India has a tropical climate, heating or cooling is required throughout the year to make the indoor environment comfortable.
Building facade: adding character to the building A building envelope sits between the conditioned "inside" and unconditioned "outside" environments of a building. Since India has a tropical climate, heating or cooling is required throughout the year to make the indoor environment comfortable. A building envelope consists of the foundation, wall assembly, roofing system, glazing, doors, and other penetrations. These elements must be connected and compatible for the building envelope to function correctly.
Mr. Harish Gupta, Partner Habitat n Skins, states, "In facade design, there are a plethora of options, and facades are where people don't repeat their designs because they can be so varied that people want something unique. The facade elements provide that flexibility, where you can combine various things, different forms and materials, giving the building a unique character. As a result, you must have a proper design and do the appropriate analyses and tests to guarantee that whatever is designed functions as intended.
Energy Efficiency of Glass Facades in the Indian Context
Mr. Binoy Kumar Das, the Principal Facade Consultant of the Facade concept design group, says," In most
modern buildings, the facade is made of glass because glass can be shaped to meet the architectural intent, as we can evaluate its performance. The analytical performance of glass will be affected by certain climatic factors, like the sun and climatic conditions, so all those factors need to be studied together with the heat load calculation before we can improve the performance of the glass.
As a result, these different categories define high performance factors. Still, it can be easier to decide on the best quick glass to use if you understand the building and its behaviour. This is why this analysis is crucial to understanding whether we want double silver, triple silver, or single silver; that's how we will define the category.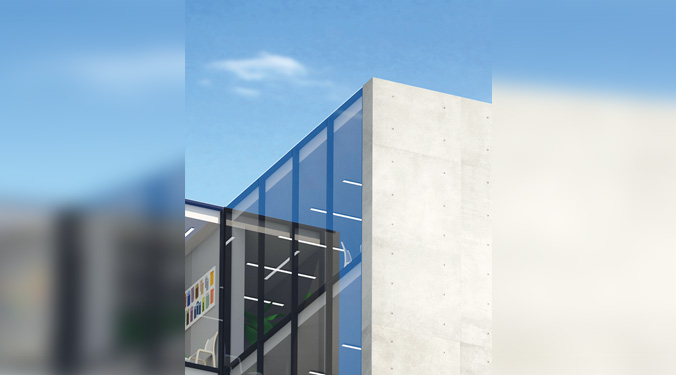 Mr. Harish adds, "The facades must be designed according to the project's location. Down in the south, you'd design a project differently, but if you were in Mumbai, you'd design it differently, and if you were in Rajasthan or up higher, where it's colder, you'd design it differently. We have to design the facades to relate to the project's location, not the Indian conditions. Since facades are very versatile, we don't need to wrap them around, unlike glass.
Where you need glass to perform, you select a particular type where you need natural ventilation, and you introduce that differently. Therefore, it is essential for the architect to be very aware or at least to get the facade consultant involved very early on in the project. Therefore, the facade consultant can also provideinput."
Materials for energy-efficient residence
Ar. Hrishikesh More, Principal Architect at Hrishikesh More Associates, elucidates, "When it comes to residential buildings if I were to say the material, you cannot fix one material because a building designed in the south of India would be different from one designed in the north. So, every look, every locality or every area has its own material set which can be locally available, which can be locally sourced, which can be easily available on site, that can also be used as a material on facades, and that, of course, merges your structure with traditional architecture as well.
Glass is one element that controls the intensity of the light and the heat, but you can also add a second skin in the form of a jaali, or even screen print onto the glass. In other words, the jaali gets integrated into the glass itself. If you have a very high intensity on a particular side, you need to control it because shades were used earlier. Although they are still there, the traditional architecture of arches and chajjas has been replaced by facades.
You can even have something dynamic and open and close as per the sunlight. So that's a mechanical facade where the second skin moves and the first can become stationary. So it moves to allow more light to come in or to control the light. Various combinations can be done. As far as deflecting the sun's heat and light is concerned."
Mr. Harishikesh concludes, "Choosing the right double-layered glass is an important part of allowing light into a structure. As a result, some of the windows we use in residential projects are double-glazed to reduce heat gain. To allow cross ventilation, we have larger openings, we have shaded those windows with larger overhangs, but still, to cut down the ambient heat, we have taken the double glass for the windows."
37