Decoding the green legacy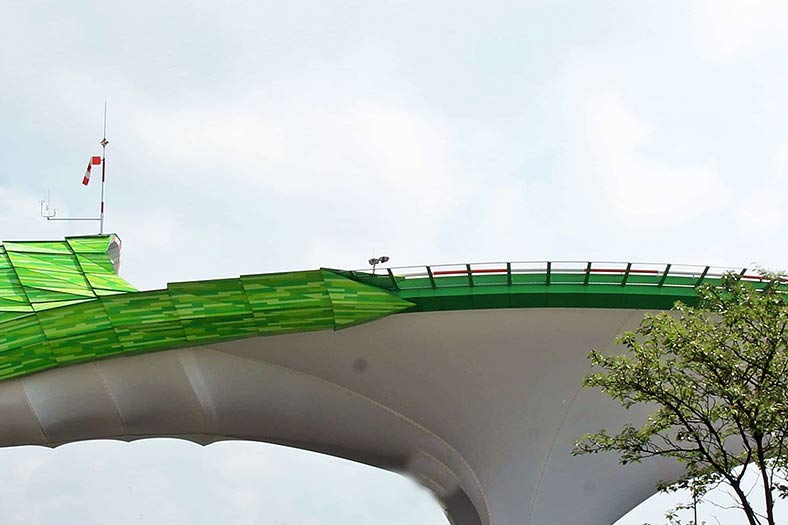 Indian building and construction practices were economically sustainable and environmentally sensitive. In contemporary times however new ways and method are needed to keep the legacy alive.
The diversity of India has one uniformity in its cultural fabric and that is to be in sync with nature. Across different states this uniformity reflects across different parameters like including the traditional lifestyle as also methods and techniques of building and construction. We as Indians need to be proud of this legacy since it allows us to have a better relationship with our eco-system and ensure it remains safer and habitable for subsequent generations to follow.
Pankaj Gandhi, Principal Architect, VH designs studio says "India is known for its way of life which relies on nature and co-exists with it in a way such that all the stakeholders stand to benefit. It biological terms the apt term to use would be symbiosis. The Indian way of life and its connection with nature is truly symbiotic.The direction of development, however has been altered by many western influences. These influences have brought in an immense amount of greed for luxury, which has no real value in our traditional lifestyle. This has impacted our way of life and it has deviated from its culture and lifestyle which is closely connected to mother nature.We cannot evaluate sustainability by evaluating the construction alone, it's a lifestyle that matters. We have all witnessed a dramatic change in our lifestyle and thus the sustainability has been affected. The sustainable technologies can be revived in most of the construction projects. The sustainable and vernacular way of construction is relevant in present era too. However, we need a mass movement to ensure significant changes in present condition to have a more sustainable and equitable world. These key issues have been addressed but by very few people and mass enlightenment is necessary."
As we step into subsequent millenniums the younger generation is getting increasingly exposed to global practices of architecture and design, which in a way is good; but at the same time, it is quite necessary to understand that the treasure of knowledge that our traditional way of architecture and design encompasses remains alive. Also, innovation is desired to ensure it can be utilized and adapted in the contemporary context. The role of education too is very important here in achieving this result.
"I think in the curriculum from ever, there was never an escape for a ventilated toilet or a corridor with light and view," points out Yatin Pandya, Practising Architect, Footprints E.A.R.T.H. "But I think with the gadgetry, we have tried to take liberties, so instead of a window an exhaust fan has come in, some may feel lighting can be utilized effectively to replace the missing window.Hence, I think we first need to instill the values that these principles are fundamental and it cannot be flouted. Education thus has to first instill the values of what is fundamental, and what is not. Secondly, we need to make it a little more interpretative, like when we say that architecture of yesteryear, we need to understand the principles that can be applied. So, we may not copy them stylistically or materially but I think if we understand the principles and the primary role of a certain way of doing things, then I think, even with a different set of materials, we would be able to do so. So, I think that level of critical thinking is of much importance too"
Reiterating the fact about the precise implementation of principles designed in architecture and design keeping in mind the climate of a region Sunil Patil, Principal Architect, Sunil Patil and Associates adds "Global innovations in architecture and design are common practice however it shouldn't boil down to simply copying the west especially nations where the climate is way different than what we experience out here in India. India today is considered an IT hub and the moment I use that term, air-conditioned buildings enveloped in glass facades is the first thing that comes to your mind even though it is an unnatural solution with reference to the local climatology which existsout here in India. So, innovations are a must, but keep in mind the local climatology. Else the course correction which happens when mother nature becomes the moderator will not be to everyone's liking. One of the examples is this pandemic itself.By now we have seen how the limitations on human movement and machines has led to our water bodies being very clean, pollution has reduced improving the air quality as well."
When it comes to air quality, it is an important parameter when it comes to green buildings. The pandemic has made everyone realize the importance of air quality and we have seen how air purifiers have seen an increase in demand. The Indian way of life has a piece of advice in such a critical juncture as well Mala Singh, Chairperson and MD, PEC Greening India points out "Indoor plants is one of the ways to improve air quality So, if one has the opportunity to grow some of these plants it will go a long way in increasing the oxygen levels and also maintaining the purity air you breathe at home; money plant, snake plant and aloe vera plant are few names which come to my mind they are many more. So, when mechanical systems are unable to help you in addressing the issue at hand or they are costly eventually its time to realize that solutions provided by mother nature are both sustainable and cost effective. The utilization of retrofits to make existing buildings green will continue but the fundamental principles defined by our traditional lifestyle will always act as a guiding tool to achieve not only just better air quality but a green and sustainable future."
The work from home scenario catalyzed by the pandemic has also made us aware of how we yearn for open spaces. Even under normal conditions our weekend getaways are to places where our mind, body and soul has access to a lot of space to move around, lot of fresh air to breathe and enjoy the subtle nuances of nature. In the urban scenario hence, it becomes to pay heed to the landscape that surrounds us. Since everyday cannot be a weekend it is imperative that we have spaces in the urban framework itself to revive our needs for ample space and fresh air. To attain this along with green architecture, smart landscaping is necessary. Nilesh Gandhi, Principal Architect, Meta Design Architects points out that "Mindless building and construction has a lot of ill effects, Mumbai despite being the financial capital offers 1.24 square metres of accessible open space per person, ahead only of Chennai, which stands at 0.81 square metres per capita. In comparison, Delhi has 21.52 square metres and Bangalore has 17.32 square metres of open space per capita. Considering the fact the in the next 20 to 40 years the free space available to us will also be utilized for building and construction it is necessary to realize the correct way to build urban environments. The livability index of the city can only improve if there is a balance between the green jungle and the concrete jungle. For every open space that is available, one needs to have a proper vision on how to make it greener as it will reduce pollution, improve air quality and offer better acoustics."
In tandem with what can be adopted from the fundamental principles of architecture and improvisations in landscape design we also need to pay heed to the energy resources which can play an important role in making our spaces greener and sustainable. In recent times resurgence in the use of solar energy in this context is being widely discussed Dhruv Sarveshwar Lal, Principal Architect, Dhruv Sarveshwar Lal & Associates/Design Equilibrium opines "Solar Energy is one of the renowned identified sectors to support sustainability because of its ease of installation and retrofitting in different building types enhancing its reach and potential in the current world scenario. In a developing nation scenario advocating the first contact viz-a-viz energy of root level users with renewable energy methods and resources is the setting print for sustainable development for generations to come. Many nations have realized the problem and supported solar energy enlargement through a broad range of financial, authoritarian, promotional and other instruments. Various policies are designed to promote renewable energy, including solar, at the global level. Sustainable implementation of policies in developed and developing countries are helping in the growth of solar energy market, mainly for grid-connected solar PV and solar thermal water heating systems. Going further few innovative and upcoming solar applications in architecture and design are solar paints, solar fabric, solar roofing materials, and solar windows"
15