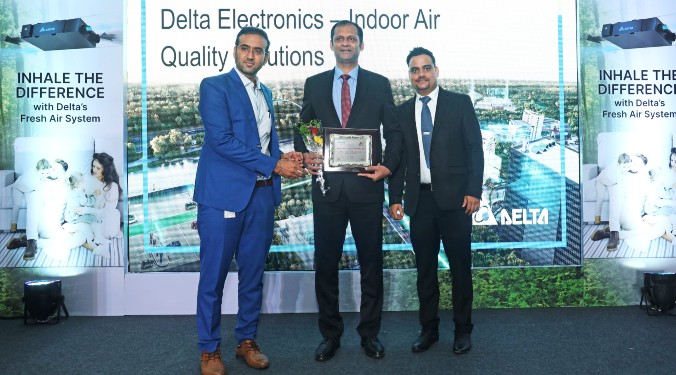 Delta Electronics India, a leading provider of IoT-based smart energy-saving solutions, in collaboration with ISHRAE, recently launched Delta's latest breakthroughs in Indoor Air Quality (IAQ) solutions.
These IAQ solutions, which include BLDC Motored Energy Recovery Ventilators, Fresh Air Supply Fans, and Ventilation Fans all featuring our proprietary DC brushless motor technology, have received recognition as Green Pro products by the Indian Green Building Congress – CII for their outstanding contributions to reducing CO2 emissions and power consumption while enhancing indoor air quality.
Niranjan Nayak, Managing Director of Delta Electronics India, says, "We are delighted to partner with ISHRAE to launch our latest Indoor Air Quality solutions. We are committed to delivering solutions that not only improve indoor air quality but also contribute to a sustainable and healthier environment as we leverage our world-leading power and DC brushless motor fan technologies. Our broad portfolio of smart energy-saving solutions are contributing to a more sustainable future in India."
Delta Electronics has embarked on a mission to revolutionise conventional fresh air and purification technology to meet the increasing demand for better indoor air quality, especially in light of rising concerns about air pollution and heavy smog. The company's advancements encompass critical aspects such as PM2.5 purification, energy recovery, quiet operation, and cutting-edge brushless DC motor and consistent power control technology.
The flagship product, the Delta Electronics ENERGY RECOVERY VENTILATOR, is at the forefront of innovation. It efficiently intakes outdoor air, purifies it through advanced filtration processes, and delivers it to indoor spaces. Simultaneously, the system expels stale indoor air outdoors, achieving comprehensive whole-house ventilation. This groundbreaking technology ensures that users can enjoy high-quality fresh air, even in fully enclosed and airtight environments.
The event feature presentations and demonstrations by Delta Electronics' experts and industry professionals, shedding light on the significance of indoor air quality and the role of innovative IAQ solutions in enhancing the health and well-being of building occupants.
Abhishek Sarmah, Business Head of the IAQ Business Unit at Delta Electronics India, adds, "This seminar represents a significant milestone in our journey to provide cutting-edge IAQ solutions. We look forward to showcasing how our products can help organisations and individuals reduce CO2 levels while ensuring better indoor air quality."
For more info visit: www.deltaelectronicsindia.com
41