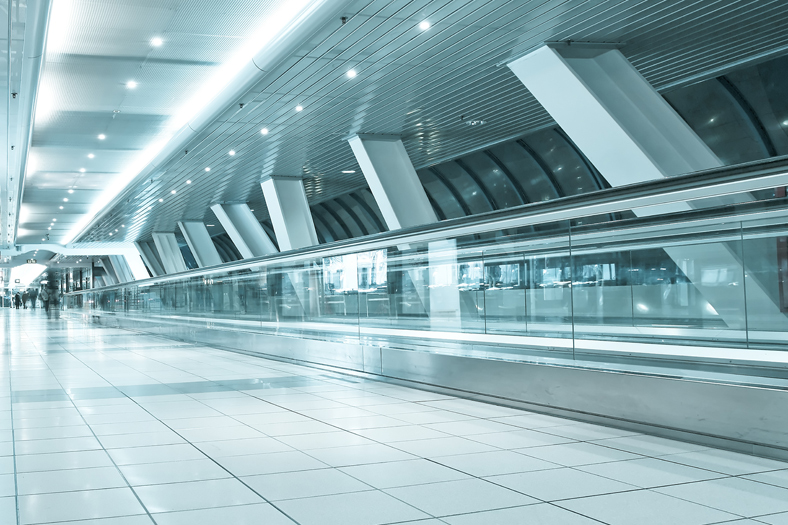 LOYTEC has implemented the integrated a modern DALI lighting system with constant light control and occupancy detection in the Manchester Airport's Terminal 2 already in 2013. The lighting control solution has been extended to the public areas of the airport's terminals T1 and T3, with further reducing energy consumption following the site wide replacement of the existing luminaires to a full LED solution.
The project would enable lighting loads to be shed when areas were unoccupied. By introducing this level of automation, further energy reductions would be achieved by utilising natural daylight. The overall energy reduction is up to 89 per cent.
Applications
• Individual control panels are installed locally within the terminal switch rooms; these connect the DALI control bus to the BACnet based BMS system via LOYTEC L-DALI controllers.
• The system design not only provides a fully dynamic lighting control solution, but also provides full system monitoring of the energy consumption, device status along with detailed reporting of fault conditions.
• The BMS system was linked to Manchester Airport's flight information system (Chroma). Lighting set point levels could now be adjusted based on real time flight movements and therefore further maximise the lighting efficiencies or savings.
Benefits
• Provides in depth management information about each individual luminaire, such as installed date, level of dimming, failures and overall energy use.
• Key tool in supporting Manchester Airport's asset optimisation process.
Related products
L-DALI controller
Contact:
Delta Power Solution India Pvt Ltd
Plot No. 43, Sector- 35, HSIIDC, Gurgaon 122001
Tele: +91-124-4874900 # 4333
E-mail: saurabh.mishra@deltaww.com
www.deltaelectronicsindia.com
6