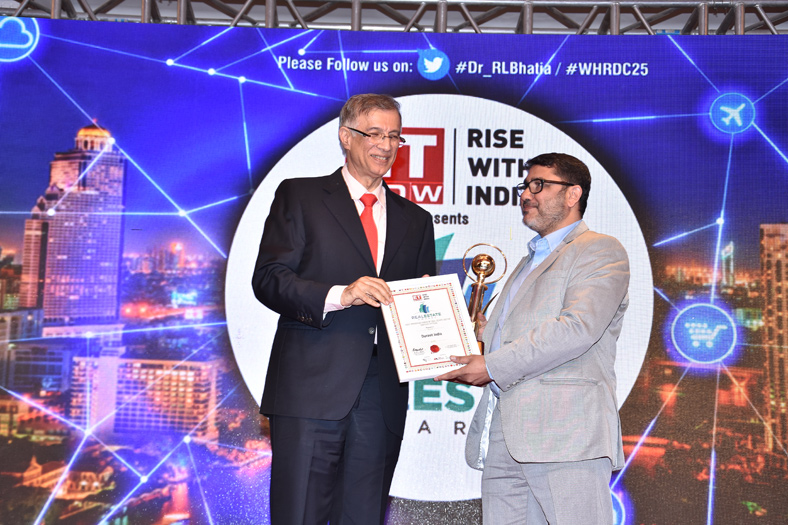 Duravit India bagged two prestigious awards at ET Now Rise With India 2018 – most preferred brands by real estate sector sanitary fittings and Managing Director of the Year "Sanitaryware Brands" to Asutosh Shah, Managing Director, Duravit India Pvt Ltd.
Founded in 1817 in Hornberg in the Black Forest, Duravit AG is today a leading international manufacturer of designer bathrooms. The company operates in more than 130 countries worldwide and stands for innovations in the fields of signature design, the intelligent use of technology and premium quality. In cooperation with highprofile international designers, such as Philippe Starck, EOOS, Phoenix Design, sieger design, Kurt Merki Jr., Christian Werner, Matteo Thun and Cecilie Manz, the company develop comfortable bathrooms that really enhance the quality of life for users on a sustained basis. Duravit's product portfolio comprises sanitary ceramics, bathroom furniture, baths and shower trays, wellness systems, shower-toilets, faucets and accessories.
The ET Now (Rise With India) presents real estate awards are open to residential and commercial property from across India. They celebrate the highest levels of achievement by companies operating in all sectors of the real estate and property sector. The awards ceremony recognises and rewards best practice, outstanding performance, and innovation within the real estate sector.
The award was presented in the presence of distinguished guests at a glittering function held in Mumbai on 15th February.
While accepting the prestigious award, Shah said, "This award belongs to the company and our entire team who have made it an organisation to be proud of. Inspite of the difficulties faced in the past, the company has been agile enough to adapt to the tough situation and has shown consistent growth in operational and financial performance." He further added, "At Duravit, we have continuously strived to create opportunities of growth by offering innovative products. We are now into next phase of growth which will further strengthen our position in the organised sector and I am confident that we will be able to deliver sustained performance in coming years as well."
15