Electrically-driven construction equipment: A game changer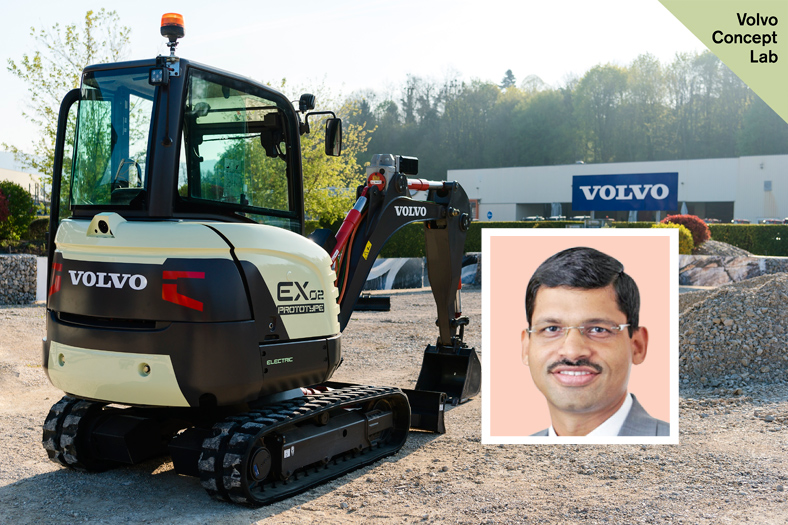 We believe that electrically-powered construction equipment is a very real possibility and our pursuit of electrically-driven vehicles could be a game changer.
Dimitrov Krishnan, Vice President and Head of Volvo CE India
Seeing most activity in road segment
Sharing his views on the performance of construction industry in India, Dimitrov Krishnan, Vice President and head of Volvo CE India says, "For Volvo CE, in India we are seeing most activity in the road building sector with numerous projects progressing. Understandably we are seeing the highest levels of demand for excavators, compactors and pavers for this application and its associated industries. For other sectors, such as mining and general construction, activity levels have not been so high and therefore demand for equipment is not so high."
Electric power or ultra-low emissions fuel
Globally there is an ongoing shift towards integrating electric power or ultra-low emissions fuel into vehicles. Almost everywhere in the world, governments are pursuing policies that bring greater sustainability and environmental care to their countries, believes Dimitrov. He adds, "It is no surprise to see it become a talking point in India. It's clearly a question of when, not if, legislation is introduced in this country. At Volvo CE, we believe that electrically-powered construction equipment is a very real possibility and our pursuit of electrically-driven vehicles could be a game changer. Recently, Volvo CE has unveiled the world's first fully-electric compact excavator, the EX2, which is equipped with electric drive systems and electromechanical linear actuators. While it is too early to say if there will eventually be a shift towards electric engines in the market, Volvo CE believes that going electric is the future of the industry. "The EX2 prototype shows our determination to provide zero-emissions machines in the future which will have the same power and force as conventional equipment," says Dimitrov.
EX2 is just one of a few electric initiatives Volvo CE has. The LX1, while not fully electric like the EX2, is a prototype electric hybrid wheel loader. In July 2017, the company presented results from hundreds of hours of testing that show an average improvement of 50 per cent in fuel efficiency compared to its conventional counterparts. This equates to a reduction of 35 per cent in fuel consumption and greenhouse gas emissions. The LX1 is a series hybrid that incorporates a driveline with electric drive motors mounted at the wheels, electrically-driven hydraulics, a battery storage system, a significantly smaller diesel engine, and new machine architecture. It's this combination that enables the substantial gain in fuel efficiency.
Thirdly, the HX1 is a prototype autonomous, battery-electric load carrier. It is one element of a project that aims to electrify a transport stage in a quarry — from excavation to primary crushing and transport to secondary crushing. It has already picked up industry awards for innovation. According to Dimitrov, all these projects demonstrate that Volvo CE stands at the forefront of technological innovation and are driving industry discussions around sustainability and environmental care. For example, the EX2 delivers zero emissions, 10 times higher efficiency, 10 times lower noise levels and reduced total cost of ownership compared to its conventional counterparts.
Promising solution and technology for the future
Briefing about the promising solution and technology for the future Dimitrov says, "We set ourselves four key technology challenges that we call Triple Zero and 10x: zero emissions, zero accidents, zero unplanned stops and 10x higher efficiency. To help us achieve our goals, we have a clear focus on electromobility, intelligent machines and total site solutions. We believe this will help us achieve our ambitious goals and pave the way for a sustainable construction industry."
As per Dimitrov "zero" targets of Volvo CE are clearly defined as:
Zero emissions will help make customers' businesses more environmentally sustainable.
Zero accidents will come from pioneering safety innovations where machines could instinctively avoid accidents – generating a completely safe working environment.
Zero unplanned stops will create a world without machine breakdowns, where machines predict and plan their own maintenance – making unplanned stops a thing of the past.
Volvo CE's 10x higher efficiency goal is directly connected to the electrification of construction equipment and site optimisation, which is expected to dramatically reduce energy consumption.
Dimitrov says, "Our efforts all center on the three guiding principles of the Volvo Group: quality, safety and environmental care. We are committed to building the highest quality machines, so Volvo CE models use the latest technology to deliver better productivity and longer uptime. Similarly, our attention to greater safety has helped us create some of the most advanced operator cabs in this, or any, industry. And being committed to environmental care has led Volvo CE to produce machines that achieve its famous fuel-saving capabilities."
10