Elevators and escalators have made vertical development possible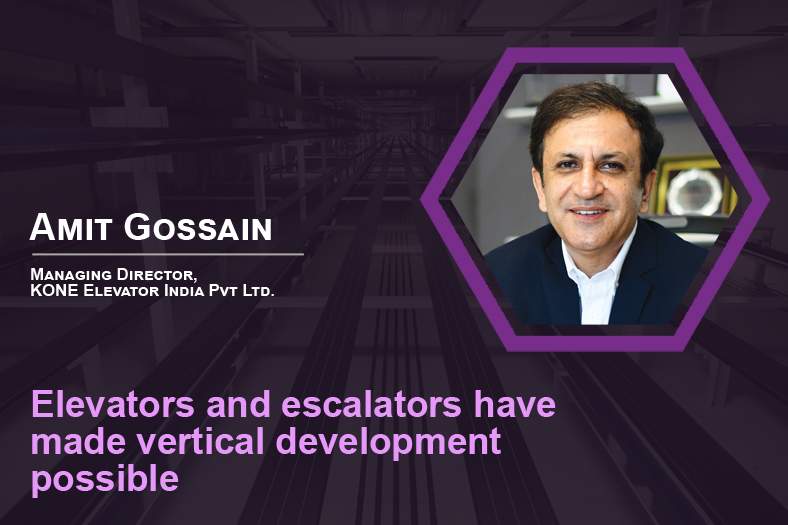 Furthermore as high-rises evolve into super high-rises hi-tech elevators with improved utility and faster movement have come into the picture says Amit Gossain, Managing Director, KONE Elevator India Pvt Ltd.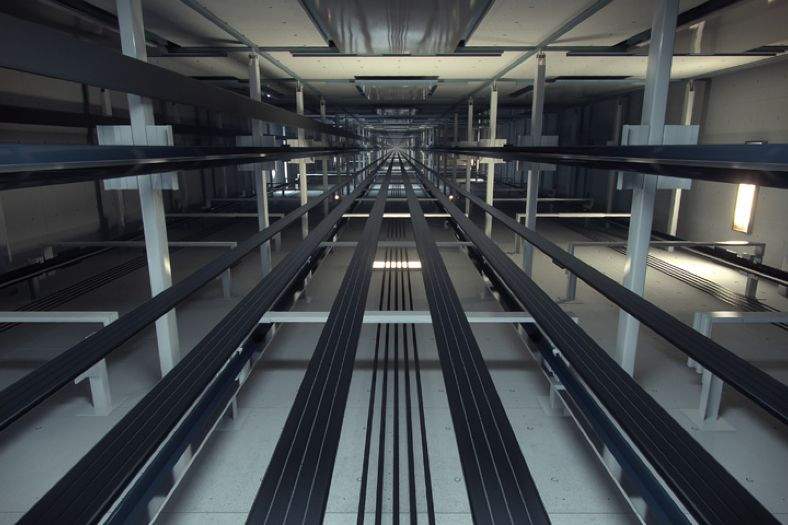 As we embrace IoT and smart building technology and innovation, how is the elevator and escalator industry catching up in terms of technology and innovation?
Over the years, both elevators and escalators have enabled the vertical development that has become instrumental for the urbanization of the fast-paced cities in the world. 
Elevators and escalators have become an integral part of our daily commute. The designs of elevators and escalators have evolved over the past two decades. Now, there has been a transformative impact of IoT and smart building technology in this sector.
Advancements in IoT and smart building technologies have taken the utility of elevators and escalators beyond their core mechanical function of commuting people up high-rises quickly and comfortably. They are becoming more intelligent, getting connected to the cloud platform where their data gets stored after an analysis. 
One of the key aspects of IoT usage in the elevator and escalator sector is their predictive maintenance. Often maintenance can disrupt the movement of people within skyscrapers, especially during unexpected breakdowns. 
In such situations, elevators and escalators can share their real-time performance data and initiate predictive maintenance through IoT instantly, without any intervention from a human technician.
Also, smart building technologies enable seamless, safe, and efficient movement of people. Smart elevators and escalators are becoming the future of vertical transportation. They identify technical glitches and make maintenance decisions in real-time. 
Overall, in this age of smart buildings, elevators and escalators will have a mind of their own. On a lighter note, what we have seen in science fiction movies, is now turning into a reality.
Likewise as high-rises turn into superstructures what are the dedicated products which are coming up in the elevator space?
To improve utility and faster movement, hi-tech elevators are taking shape and adapting to keep up with superstructures. Here are some major developments in the elevator space.
Elevators to Maximize the Travel Distance
Elevators with traditional cables can travel a limited distance of only a few hundred meters because of the heavyweight of steel rope.  
A product like KONE UltraRope is superlight and increases the travel distance significantly by reducing the cable weight and friction. Made of a carbon fiber core surrounded by a unique high-friction coating, it weighs only about a fifth of a similar conventional steel rope. As a result, elevators consume less energy compared to traditional cables, which help them move faster. 
High-Speed Elevators 
Leading manufacturing companies like KONE are designing high-speed double-decker and high-rise MiniSpace™ elevators for fast and comfortable rides with great eco-efficiency. These sleek elevators have significantly reduced travel time, enabling faster people flow. 
Touchless Elevators
One of the most interesting concepts to be seen amidst the pandemic are touchless technologies. As a pioneer in people flow, and with a holistic approach to health, well-being and safety, KONE had introduced a range of Health and Well-being Solutions that have really helped recreate safer user journeys and healthy spaces in the buildings.
Touchless Elevator Call Feature allows users to call an elevator without touching possibly contaminated buttons or displays. Physical distancing elevator floor stickers and Elevator full load limit adjustment ensure less crowding and thereby contribute to a healthier environment. KONE Handrail Sanitizer, an escalator handrail cleaning solution, uses a type of ultraviolet light to continuously clean the handrail when the escalator is in use.
Digitally connected Elevators
With digital connectivity as a standard, elevators will now evolve with use, throughout the life of a building. The rise of a new era in the industry, KONE DX Class is a game-changer, that is bound to transform how people experience elevators. With pre-set themes with curated music and animated lights, Ecosystem partners, information screen, and touchless signalization, KONE DX Class is future-proofing buildings with market-leading elevator technology.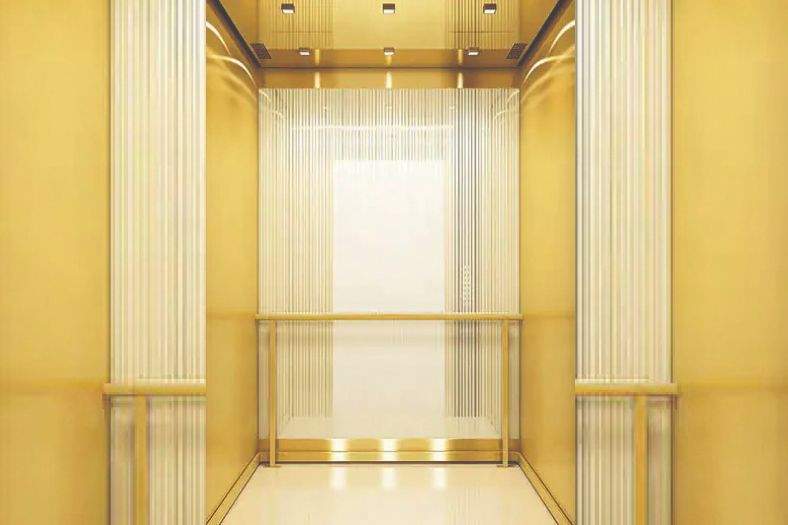 Innovative building designs have also created a niche market for horizontal elevators, can you elucidate on horizontal elevators and their uses?
The horizontal-vertical elevator came into the limelight ever since 2017. Dubbed as the "elevators of the future," horizontal elevators can move up and down, sideways, and even diagonally.
The rope-free system of horizontal elevators integrates linear motor technology originally invented for running magnetic levitation trains. While running on tracks, cabins move similar to trains that travel with multiple cabins moving up one shaft and down in a single constant loop.
This underlying approach provides horizontal elevators several advantages over traditional ones, where they can transport as much as 50 percent more people in a single shaft. By using fewer and smaller shafts, horizontal elevators can increase a skyscraper's usable floor area by nearly 25 percent. It will significantly improve the commercial viability of taller buildings.
The exciting horizontal elevator can revolutionize how skyscrapers are designed by helping emerge more modern high-rise structures. The era of traditional rope-based elevators is truly over, when we look at the rapid advancement of this technology.
What are some of the most important parameters to keep in mind when selecting an elevator for a high-rise?
There are many key parameters to consider when choosing an elevator for a high-rise building. 
Capacity
When choosing a quality elevator, you first need to know the estimated capacity of a high-rise building along with tentative passenger waiting times. These factors will help you determine the type of elevator you require. 
For example, if a high-rise building has over 20 floors, a single elevator grouping will not be enough as it will result in long travel times and could become congested during busy hours.
Elevator Design:
A quality elevator should also have an aesthetic design and décor to fit in a modern office environment. However, remember that fancier elevator designs like glass look attractive, but they are also more complicated to maintain. 
Nice-looking elevators are generally ideal for low-rise buildings and can function in tandem with standard passenger elevators.  
Peak Hours
When selecting an elevator, it is important to learn about the traffic volume during peak hours in a high-rise building. If the volume is high during rush hours, the design and efficiency of an elevator should be robust, energy-efficient, and faster to suit the requirements. 
Aspects starting from managing the flow of people, covering the number of floors, waiting times, weight, and speed will all play a role when determining the right type of elevator. 
Safety
Safety is one of the most crucial factors when choosing an elevator. There should not be even a minor glitch. 
From the perspective of safety, an elevator should be able to carry the weight of visitors at the maximum capacity, and it should have a functioning alarm installed for emergencies. 
KONE offers architects and building planners free online tools to help during the building design phase. The tools – named KONE Quick Traffic, KONE Planulator and KONE Escalator Designers – enable architects to browse through various product offerings and find the optimal elevator or escalator solutions needed for their project.
Nowadays high-rises are also coming up in cities where there is a power deficit. In such areas what alternative arrangements should be made, so that people don't get stuck in elevators in case of a power cut?
These days, high-rise buildings are common in cities with frequent power outages. Most elevators will stop running during a power outage. Here are some alternative measures that building authorities can take so that people do not get stuck in elevators:
Carefully review all the backup power sources frequently to make sure they work properly when a power outage happens. 

Check and ensure that the alarms, emergency lights, and phones are in working condition. 

Integrating a battery lowering system or an Automatic Rescue Device(ARD) in elevators is a good idea. The system will get activated whenever a power outage happens. During a power outage, the elevator will use its battery power to move the nearest floor. Once the doors open, the elevator will get safely shut down. It will allow passengers to exit quickly. However, the elevator will be out of service until the power comes back.

Building authorities need to ensure elevators that run on computer systems have programs to operate safely during a power outage.

When authorities anticipate potential outages, they should post alert signs at every elevator to limit their use.
53