The construction is advancing to become cost-effective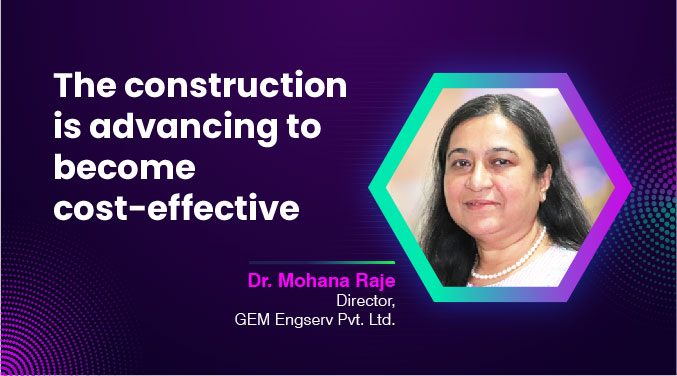 Dr. Mohana Raje, Director of GEM Engserv Pvt. Ltd., speaks about the project lifecycle and construction project management.
Ensuring efficiency in projects
Planning, which takes place in three phases—pre-construction, construction, and post-construction—can efficiently complete the construction phase, or "project lifecycle," of a housing project.
Construction project management entails managing and coordinating technical, human, and material resources throughout the project lifecycle to reach a planned calculation of scope, cost, time, and quality. The ever-evolving, quick-paced, and technologically focused nature of the construction business is combined with the knowledge and abilities of a traditional project manager to create construction project management.
Pre-construction phase 
 The project owner or developer should appoint a project manager or construction manager as soon as possible after the land purchase and legal paperwork are completed. This will allow the project manager or construction manager to provide value engineering and help reduce costs, prepare building plans, make a realistic budget estimation and finance available to the client, assist the client in selecting the best technology and construction method, help with site preparation, and more planning and scheduling.
Building phase 
Some of the jobs like site preparation, the foundation, the plinth beam and slab, the superstructure, the lintel, the laying of the bricks, the coating of the roof, the electrical and plumbing systems, the flooring, the painting, and the exterior and interior finishing etc., should be planned out beforehand to prevent bottlenecks and delays.
Post-construction phase 
Testing and commissioning, snag-list management, and close-out documentation are all tasks completed during the post-construction phase of a project's close-out.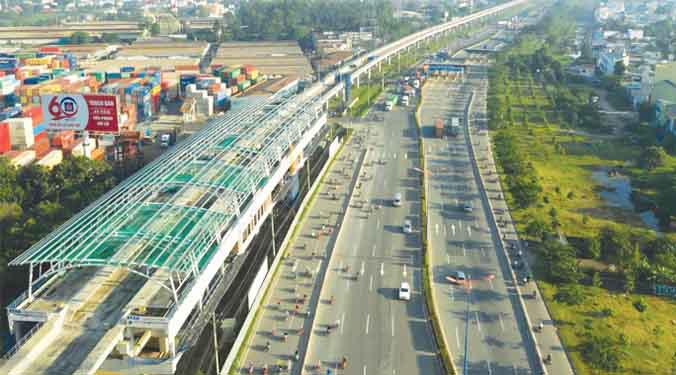 Real estate challenges
Developers pass on the cost increase to home buyers to safeguard margins because steel, cement, copper, and the supply chain have all seen price increases due to fuel and labour costs. As a result, home prices may rise above current rates.
Location, amenities, proximity to infrastructure, commercial development, land availability, demand and supply in the real estate market, interest rates, and governmental regulations are additional elements that could impact real estate prices. 
Innovations in effectively managing the end-to-end sourcing
The most recent advancements assist contractors in effectively managing raw material sourcing from start to finish. They include mechanisation of construction equipment such as Computer-Aided Design (CAD) for structures, detailed rebar detailing, and building block systems (BBS) for accuracy.
Construction is becoming more and more industrialised, which is crucial and cost-effective. Complete paperless digital solutions are needed for quality management, snagging and tracking site labour movement, also personal protective equipment (PPE) for safety on site.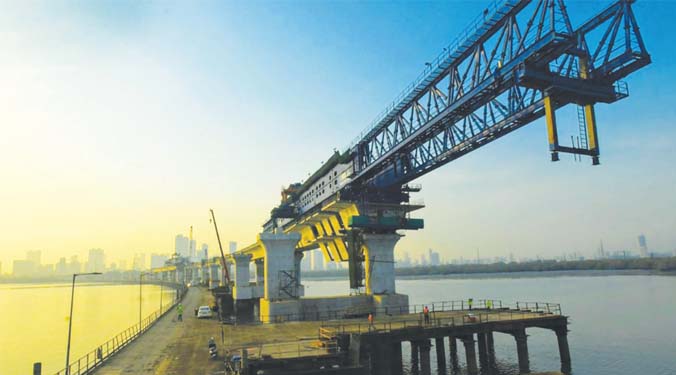 Need for efficiency and accuracy in design and engineering. 
India's construction industry must prioritise efficiency, precision, and sustainability in design and engineering to adhere to smart city development criteria. Green and sustainable construction methods and smart digital technology-enabled structures create a more sustainable, efficient, and livable urban environment. The construction sector may contribute to the success of smart cities in India by replicating a building's performance, lowering energy consumption and waste, and enhancing safety and security through smart technologies. 
As a smart city design is built on big data technology, establishing multiple information networks will assist in sustaining the essential demand of any smart city. The design and strategy of smart cities based on big data technologies require additional development and have yet to achieve a mature state.
Redevelopments and SRA projects
According to the SRA Rehabilitation Authority, the Maharashtra government has introduced an all-inclusive slum rehabilitation scheme by introducing an innovative concept of using land as a resource and allowing incentive floor space index in the form of tenements for sale in the open market for cross-subsidisation of the slum rehabilitation tenements, which are to be provided free to slum-dwellers.
They are also providing a single point of contact for all types of approvals needed for the project, such as the formation of co-operative societies, certification of slum-dweller eligibility, punitive action against non-participating slum-dwellers obstructing the scheme, survey and measurement of slum lands, grant of building permissions, and leasing of rehab units.
for more info visit :https://gemengserv.com/
71