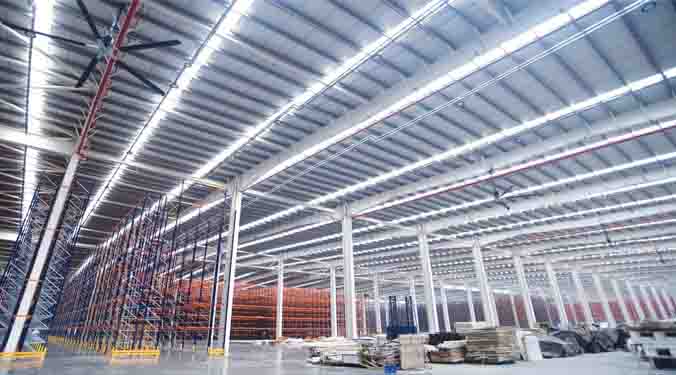 "Everest's scope of work included complete turnkey solutions starting from design and engineering, fabrication, logistics and erection of the complete warehouse spread over an area of 4,04,350 SFT." 
Project Brief
Reliance Industries limited wanted to develop a Greenfield warehousing facility in Haryana. The investment was part of the company's larger expansion plan to cover the entire country; Reliance Retail was expanding its retail network to cover the entire country, much beyond the 500 towns where its physical stores are operational, using a hybrid online-offline model. The distribution centre would act as a centre point for all the nearby stores, and products would be sorted, packed, and tagged in this warehouse for sending to the company's retail stores. After a stringent short-listing process, Everest was chosen as a preferred PEB supplier to execute this large warehouse project.
Geometry & Architectural Features
The building has a length of 235 m and a width of 160 m. The warehouse also has a Mezzanine floor and Lean-to building to meet the user's functional requirements. To attain high levels of energy conservation, Fiberglass insulation was provided in the Roof and Wall Cladding system.
Challenges
The Everest team faced a series of challenges, starting from design and engineering to the erection of the warehouse in such a stringent timeframe. The client wanted the design and engineering team to reduce the number of intermediary columns for installing a maximum number of racking systems inside the building and have a single 80 m long roofing profile on the warehouse roof to minimise the possibility of leakage.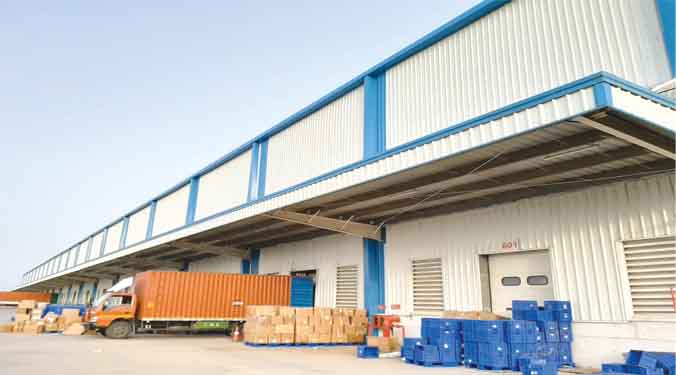 Solution 
Everest's design and engineering team ultimately met the client's requirement for space optimisation inside the warehouse building to accommodate a maximum number of storage racking systems by providing a jack portal. The expert engineering team at Everest designed continuous Jack portals along the jack beam line to control the deflections and maximise the storage space inside the warehouse.
To cater to the client's need for a single 80 m roofing profile and minimise leakage risk, the erection team completed the roll forming of the roofing profile on site. It carefully installed the 80 m long roof sheets on the warehouse building. The team faced another challenge while lifting the 80 m long sheets to a height of 13m due to the risk of rupture during the lifting process. To counter this challenge and further decrease the timelines, the roll-forming machine was lifted and placed on a platform at 14m. The total length of 160 m of the warehouse building was then covered in a single overlap of 2 sheets 80 m long each to provide an all-weather SS leakproof roofing system per the client's requirement. 
Conclusion
The highly experienced engineering and erection team of Everest worked meticulously to keep the client updated about the challenges and progress of the project. Everest successfully delivered the Greenfield aesthetic Grade A warehouse infrastructure for Reliance Industries Limited in a stringent timeline following all the safety protocols.
For more info visit : https://www.everestind.com/
79