Hansgrohe products offer convenience and functionality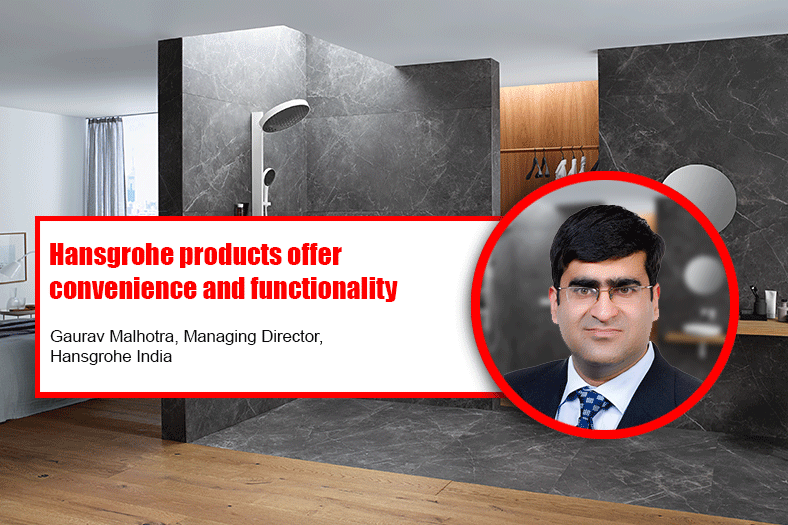 Gaurav Malhotra, Managing Director, Hansgrohe India points out Hansgrohe's products are designed and developed keeping customers' current and future needs in consideration.
How do you see the market opportunities in luxury bath and sanitary fittings in India?
In India, the sanitation industry has seen a steady growth in the last few years with increase in disposable income and nuclear families being some of the factors. House owners today look for a bathroom which combines convenience and functionality. The customers want bathrooms fittings that are easy to operate for every family member and make showering a relaxing experience. Increased awareness amongst customers is also impacting the demand. For bathroom fittings manufacturers, the opportunity is huge. When a customer is knowledgeable, it's easy to understand his/her needs and provide the right solution. Companies can also offer customised bathroom solutions to the customers with intricate needs. It's very important that we meet the customer requirements, provide the bathroom products that don't require a change for at least 3-5 years and keep on working towards solutions for future.
How has the design taste for luxury and bath fittings evolved over the years in India?
Bathroom designs in India have evolved in the past decade. The space in a house or an apartment which was thought about,at the last, the space which was considered just for daily ablution has now become a personal spa, most private place in the house. Upgrading bathroom spaces led to bathroom fittings being given an increased emphasis. The bathroom fittings are available in countless shapes, finishes and styles. It helps customers to understand how a particular kind of shower or faucet can change the ambience of the bathroom. Few years ago, what resonated luxury included bathroom fittings in gold finish, big shower heads, a classic looking faucet– everything that can be related to an expensive bathroom. Over a period of time, people have realised that it is not necessarily an expensive bathroom will be luxurious. Luxury means less clutter and more comfort, minimal design and maximum output. For bathroom owners, a luxurious bathroom is one which reflects their personal statement, a room to enter into after the hectic day and rejuvenate.
In your own words, what is the uniqueness of brand Hansgrohe?
119 years of innovation, design, and quality – that is what the Hansgrohe Group stands for. Hansgrohe started as a small workshop in the Black Forest area of Germany, today we are the leading, world renowned bathroom fittings manufacturer.Then and now, the people are the centre of our focus. Our products are designed and developed keeping customers' current and future needs in consideration. We continuously work towards making your time spent in the bathroom more beautiful and comfortable. We are conscious of tomorrow's requirements and are shaping the future designs of bathrooms world-wide.
What are some of the iconic projects where brand Hansgrohe has been utilised?
Hansgrohe& AXOR product concepts have been beautifying bathrooms of many iconic buildings world-wide. The Marriott County Hall Hotel in London, Rulantica Europa-Park water world, Burj Khalifa (Dubai), Yoo Apartments by Philippe Starck (India), The Retreat at Blue Lagoon (Iceland), The Bulgari Resort (Dubai), Trump Towers (India) are the few names amongst them. The broad range of products from the AXOR and Hansgrohe brands offers faucets, showers, and accessories in classic to modern design which turn the hotel or resort bathrooms into an oasis of wellness. Not limited to buildings, the Hansgrohe & AXOR products have also made Cruise Ships like the "Quantum of the Seas" score points with their ecological and energy-efficient standards, which they meet with the help of water-saving Eco Smart showers from the Hansgrohe Group.
What are some of your latest products which have elicited an enthusiastic response from the Indian market?
We have received a fantastic response from our clients and customers for the recently launched Hansgrohe Rainfinity shower family. The modern looks of the shower range, matt-black dual finish, the innovative shoulder shower and the way Rainfinity shower range adapts to a user's needs has been appreciated and loved by the customers.
The AXOR MyEdition & AXOR Edge faucet ranges launched at ISH last year have also been recognised by the architecture fraternity and the customers with a taste for avant-garde designs. The AXOR MyEdition faucets can be customised as per the client's bathroom theme. The faucet's top plate can be easily changed and there are plenty of materials to choose from like – marble, wood, glass, leather and metal. On the other hand AXOR Edge, designed by world renowned Jean-Marie Massaud, break through boundaries in both aesthetic and technical terms. A diamonding machine, used in the aerospace and laser industries, was developed especially for the production of AXOR Edge. Diamonds polish the surface facets of the faucet with micrometer precision to produce a fascinating play between light and shadow.
12