Key sectors should remain insulated from price surcharge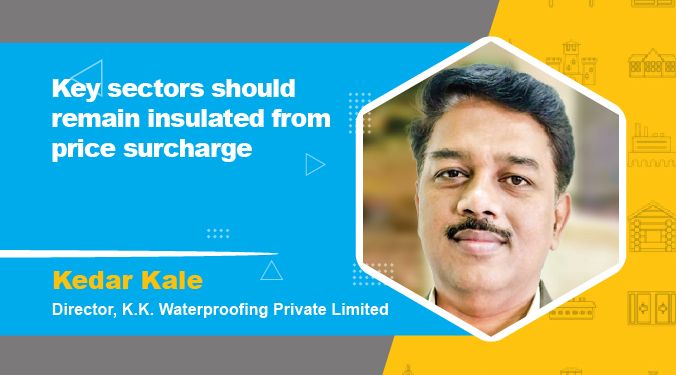 Kedar Kale gives us an insight on his companies marketing strategy and tells us how the business is closely related to some of the key sectors of the Indian economy.
What is your strategy to expand business for the existing product range?
Our strategy will be primarily driven by increasing construction expenditures involved in old and new projects. At the same time I believe there is an increasing tendency to focus on improving the general quality of construction, this in turn has lead to a demand for higher priced, value added products used in decorative and structural applications. This will also boost the intensity of use of the different kind of products we manufacture. We are also going to build a customer loyalty program which will allow us to retain old customers and acquire new customers. From distribution channels to our direct competitors, we closely look at the all the aspects, our team is also engaged in deciphering the demography vis-à-vis the new opportunities that are available both in national and international markets, but we are keen to do it for expanding our business operations.
In your journey so far. do you believe the consumer has now become more quality conscious when it comes to choosing the right product?
Yes, consumer these days have become smarter when it is about getting work done in time or earlier than the committed time without compromising on the quality of work and the products in use. The power of internet has made it possible for a client or consumer to do their own research before finalising products or other related materials. Consumers do thorough study and analysis of products before use and also search for recommendations, survey and even other people reviews about products.
What are the new products you are introducing in the market this year?
We are introducing new products in the market which includes
• Application of POLYURIA Products.
• Application of EPDM Membrane
• Application of HDPE Membrane
• Application of POLYURATHIN Products.
• How to close Negative side water in a hour.
What are the challenges being faced by the Chemicals and Coatings industry in dealing with the upcoming demand and supply?
The industry is currently being hit by double– digit rise in prices for resins, pigments, additives, solvents and packaging materials as demand for paints begins to pick up in Europe. Likewise the demand for coatings in India continues to remain strong. In addition to the combined effects of a rapid and persistent growth in Asia and a sudden surge in the need for coatings chemicals, it has become clear that there is now an underlying imbalance in production capacity for certain raw materials. The feedback we are getting from our members is that they anticipate that the shortages will continue for several more quarters because of the rapid economic growth. We, too, have been experiencing some shortages and more and more raw materials have to be imported from abroad to make up for reductions in domestic capacity.
What is your expectation from the industry bodies and policy makers to capitalise the present market?
Elevated petrochemical prices and other production costs will also contribute to chemical products accounting for an increasing share of construction spending going forward. Hence the government should ensure key sectors of the Indian economy, such as construction remain insulated from a price surcharge.
8