Moving beyond the misconception of monsoon-prone areas with waterproofing solutions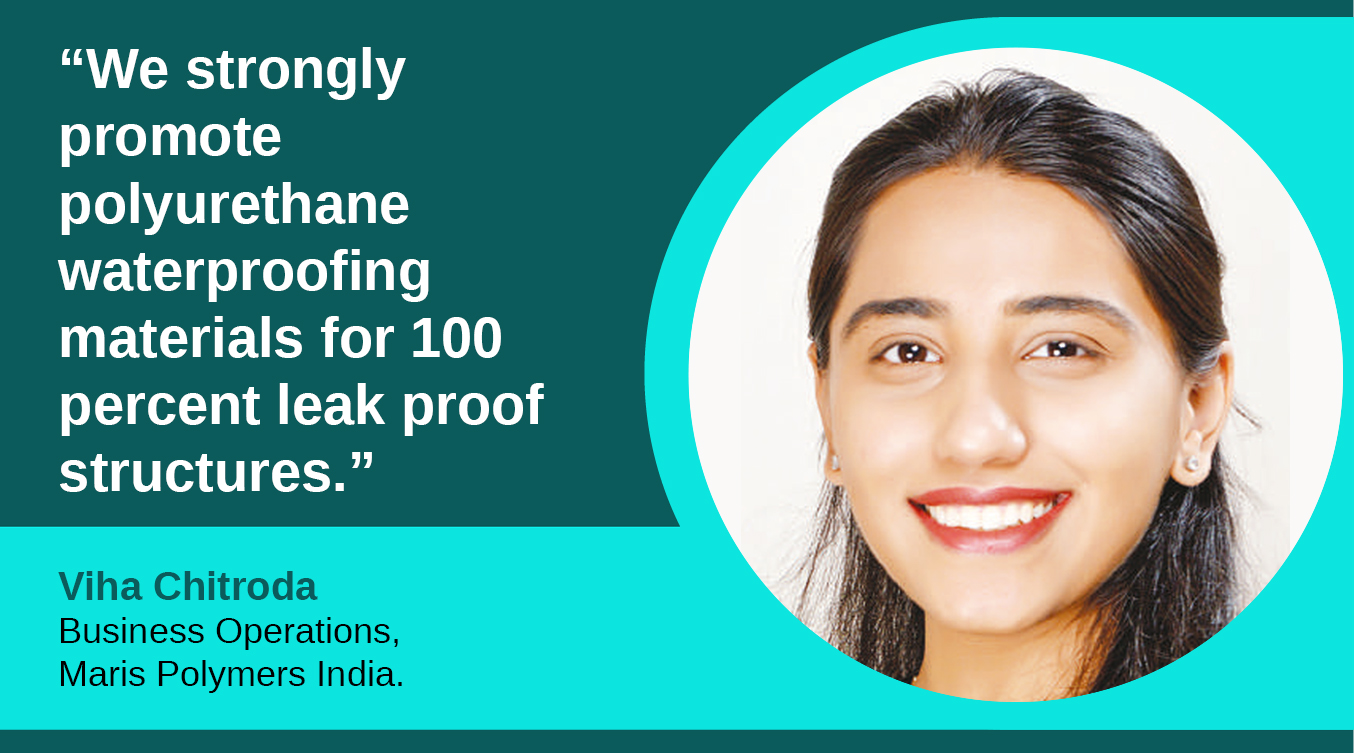 Viha Chitroda, Business Operations, of Maris Polymers India, talks about the necessary monsoon maintenance and waterproofing solutions for monsoon prone areas.

What are the advantages and disadvantages of various waterproofing techniques such as chemical coatings, membranes, and sealants?
Over time, advancements in waterproofing technology have been driven by various factors, such as changes in climatic conditions, fluctuations in the quality and availability of raw materials, and changes in the skill level of workers. In previous times, people were more relaxed about the quality of infrastructure, but nowadays, there is a greater demand for faster and more efficient solutions. Therefore, technology must keep pace with these changing demands. For instance, brick bat coba was considered sufficient in the past, but due to technological advancements and changing requirements, it is no longer adequate.

Are there any eco-friendly waterproofing solutions that are suitable for the monsoon season?
Our product range includes a variety of materials, including polyurethane dispersions, which are water-based solutions. These dispersions are eco-friendly due to their solvent-free nature, which reduces the impact on the environment. Even in cases of disposal, waste, or repairs, the harm or degradation caused to the environment is minimal. While we cannot claim 0 percent harm to the environment in the construction chemicals industry, this is a small but significant change in waterproofing technology. We promote both water-based and solvent-based products and also believe that water – based products are a more sustainable choice.
How long does a typical waterproofing treatment last during monsoon season?
At Maris Polymers, we offer a wide range of materials and solutions, including eco-friendly water-based polyurethane dispersions that are solvent-free. We believe in providing high-quality solutions that last for years, with warranties ranging from seven to 25 years. Our ideal customers value quality over price and understand the importance of using the correct specifications for each area of application. Our advice is to do it right the first time and choose the correct specifications to prevent future issues. At Maris Polymers, we take great pride in being technically sound and committed to providing 100 percent leak-proof structures, and our customers recognise us not just as material sellers, but as solution providers.

What are the common signs of waterproofing failure during monsoon season?
The effectiveness of waterproofing largely depends on proper specifications and application, which makes up 95 percent of the process, while the product in itself only makes upto 5 percent. At our company, we address this issue through our unique selling proposition (USP), which involves providing comprehensive technical assistance and ensuring that the product is applied in the appropriate manner and within a proper built-up system. This sets us apart from other companies and helps us achieve leak-proof structures with a long-lasting warranty.
for more info visit : https://www.marispolymers.com/
16