Metros provide a safe, secure and efficient mode of travel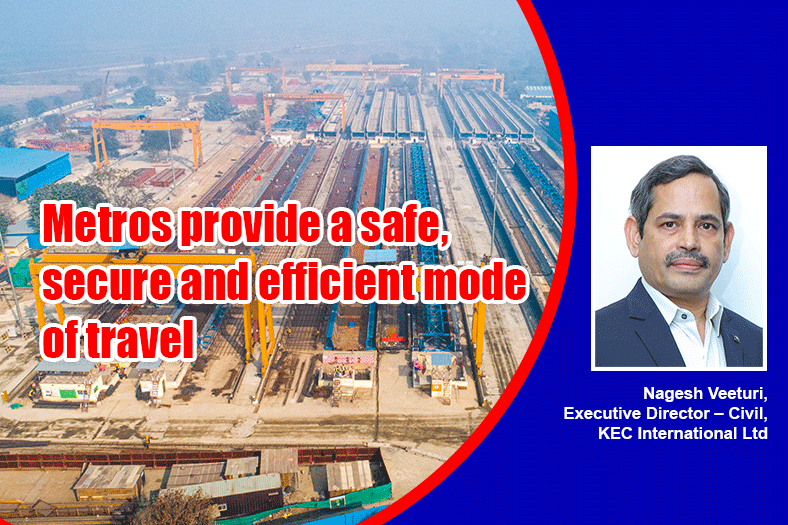 It also offers better last-mile connectivity as compared to other modes of transport. Metros have proven to be more efficient in terms of energy consumption, space occupancy and numbers transported, says Nagesh Veeturi, Executive Director – Civil, KEC International Ltd.
Kindly tell us about KEC's pan India involvement in the design and implementation of infrastructure for metro projects?
KEC International is a global leader in engineering, procurement and construction (EPC), specialising in power transmission, distribution, railways, civil, urban infrastructure, solar, smart infrastructure and cables. In line with its diversification strategy, RPG Group's flagship infrastructure company KEC International forayed into the fast-expanding urban infrastructure sector last year (2020) and is currently executing several high-profile metro projects across India.India. These include five large orders in the elevated viaduct segment for clients such as Delhi Metro Rail Corporation (DMRC), National Capital Region Transport Corporation (NCRTC) for the construction of the Delhi-Meerut Regional Rapid Transit System (RRTS) and Kochi Metro Rail Corporation (KMRL). The company has also recently secured its first order for the construction of a Depot cum Workshop for the Delhi-Meerut RRTS corridor.
In addition to these orders in the civil works space, KEC has also successfully enhanced its portfolio to include several projects in the technology-enabled and emerging segments of Metro, DFCC and high-speed trains. The company has recently secured orders in the metro electrification and ballast less track works from DMRC and KMRL respectively, marking its foray into these new areas. These orders have catapulted KEC into a league of elite players capable of executing large, complex and technology intensive projects in the urban infra sector.
The company has successfully created a niche by integrating advanced construction technologies and equipment with its extensive project management expertise and capabilities to deliver best-in-class construction to its clients. KEC's integrated project management competencies have been a key enabler for it to deliver our projects on or ahead of schedule.
When it comes to the construction of bridges, buildings and stations, what kind of construction technologies (like precast, prefab and more) are being used?
Metros and bridge projects have created great opportunities to develop innovative solutions for large scale constructions in the urban/ specialised environment. The elevated viaduct superstructure and the structure of the stations can be constituted entirely from precast concrete elements. For bridge construction, different methodologies that can be employed include Simple Box, I-Girder, Box Girder, Segmental Arch, Balanced Cantilever and Cable-stayed bridges. The selection of methodologies depends on the span length, type of construction and material used (prestressed/RCC/steel). Certain key parameters must be considered to decide on the methodology and associated design of precast elements, to determine the success of the project in terms of speed and quality of construction, environmental impact, and aesthetic appeal of the structure, in addition to the cost and economic viability.
These include:
• Feasibility to transport precast elements over the existing road network
• Type of pre-casting facility (long line/short bench)
• Prestressing (pre-tensioning/post[1]tensioning)
• Construction methodology (segmental/full span)
• Section of Girder (Box Girder/ U-Girder for 2 tracks/ Twin U-Girder/ I-Girder)
What are the advantages of using these technologies when it comes to timely completions, project cost and safety?
Precast/Prefab construction provides design-build efficiency and flexibility, in addition to an efficient delivery model for metro projects, allowing construction to proceed while the design is developed. It also offers superior quality at a lesser cost and reduced time. The finished structure is earthquake resistant and aesthetically appealing, and more importantly, environmentally friendly, as it generates less carbon footprint during production.
How important according to you is the role of metros for intra city connectivity? How does it aid the growth of the Indian economy?
Metro provides a safe, secure and efficient mode of travel and offers better last-mile connectivity as compared to other modes of transport. It has proven to be more efficient in terms of energy consumption, space occupancy and numbers transported and is very beneficial in the Indian scenario due to high traffic congestion and a large number of commuters. Investments in metro rail can save a huge amount of precious natural resources, cut India's import bill, reduce pollution and substantially transform Indian cities and citizens, offering them an improved quality of life.
8