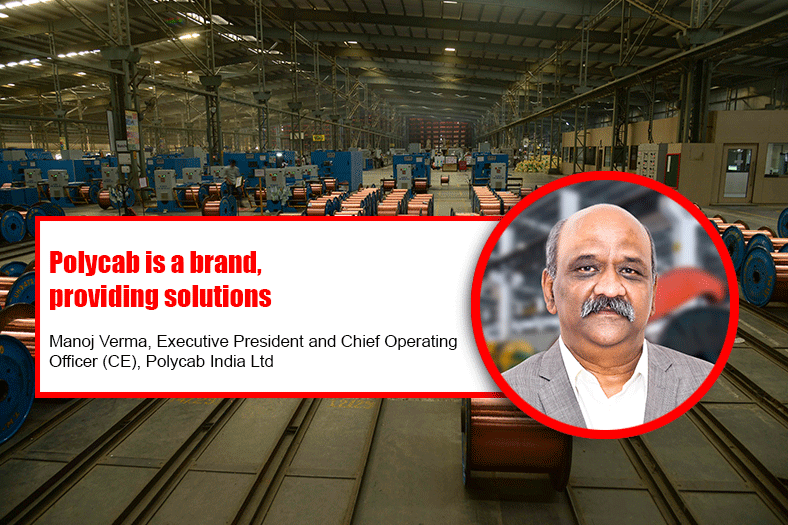 Manoj Verma, Executive President and Chief Operating Officer (CE), Polycab India Ltd talks about how Polycab products are one stop solution for all electrical needs and its foray into automation.
Could you summarize about the products and verticals that Polycab is offering?
As far as verticals are concerned, Polycab is into cables and wires. This has been the main forte of Polycab for decades and four years back, we made foray into consumer products. We started with fans and then switches, switch gears and lighting. Last year (2019), we entered into pumps as well. Despite being in the industry for four years, we have already attained the position of being counted as an organized brand and not just as a startup. Though Polycab is a startup among newcomers in the industry, we are by far the leaders. Overall in the fans category, we have more or less already attained the number six position in a short span of four years.
As far as lighting is concerned, we worked initially in the consumer category and in the B2C portfolio for three years. And we worked on the channel to create a full-fledged distribution channel. We are now working to expand our retail footprint. As far as our consumer products are concerned, we have a presence in 100,000 retail outlets in the country and our target is to take it to 150,000 to 200,000. After reaching these targets, we can say Polycab is a pan-India brand available everywhere. We started initially trying to work on creating a portfolio for our brand to be recognized and we have accomplished that.
We have showcased here is Polycab 2.0, where we are graduating from being a product brand to a solution brand. For example, if you are designing or redesigning your home then we have an array of solutions for your home like switches, lights and fans. So, the entire approach has changed from product to solution. It has helped us to create various product segments like midsegment, upper mid segment and the premium segment for different consumers. We also have an automated internet based platform, which can talk to all the gadgets in a home. Polycab can offer you an automated home wherein you can control all the electrical gadgets in your home using a mobile app or Alexa. You can control everything electrical in your home and it is a voice enabled system.
Will the pricing be a one-time model or subscription based?
The pricing for this will be one time as the platform is ours. We have our own server based in Mumbai. Using our smart home solutions, you can turn on and switch off your lights, fans and air-conditioners, you can regulate the speed of your fans, the temperature of your air-conditioners, the intensity of the lights in use. You can also use it to control automated window blinds and create different mood scenarios in a home. We have also come up with smart lighting and smart fans and it has many unique features.
When it comes to smart homes in India, which cities have more acceptability?
It is in metros and tier-II cities. These are the places which have affluence, double income millennials and internet savviness. Apart from Bengaluru and Hyderabad surprisingly Indore has an extremely high amount of acceptability. Earlier, there used to be eight to 12 cities in India but now we have 100 cities in terms of affluence for smart homes solutions.
Which is the driving force for Polycab vis a vis residential vs commercial?
Residential is the driving force due to its sheer volume. We have 170 million households and they are up for renovation for every five to seven years. Despite the economy and realty sector being down, existing homes are getting renovated and that is the market.
What is the USP of Polycab brand?
The USP of Polycab is that we are one stop shop for an array of electrical needs. Our cables get the power to the house, distribution board distributes it and wires carry the current to the switchboards. To sum it up, we offer a comprehensive product portfolio to gratify all the essential electrical needs of a home, office or a corporation.
Are you working with any developers or architects?
We are working with Hiranandani, DLF in Delhi, Shobha in Southern India. Polycab is also working with APS in Noida. Builders and contractors are our main target.
Are you open to the idea of customisation?
We have a range of switches and each switch is worth Rs 20,000. Polycab has switches in marble finish and granite finish. We have products cutting across different financial backgrounds.
How does Polycab products help in energy efficiency?
With the rise in global warming, there is a need for eco-friendly and energy efficient products. Polycab with its Green Initiative has developed Polycab Green Wires, understanding the global need of energy efficiency. We manufacture green wires that are eco-friendly, safe and delivering high performance. Combining breakthrough engineering with meticulously selected materials, Polycab has introduced 'Green Wires' conforming to stringent European norms in environmental sustainability and cable safety. Polycab's 'Green Wire' has a higher current carrying capacity than other conventional wires, and it is an environment-friendly product for addressing energy requirements of industries and households.
The Polycab Green Wire is energy efficient, recyclable, is RoHS compliant, has low smoke density and emits fewer toxic gases in extreme fire situations. Apart from Green wires, our FMEG products like LEDs, fans, geysers are also energy efficient making it the preferred choice for green buildings.
68