Paint smart with Skora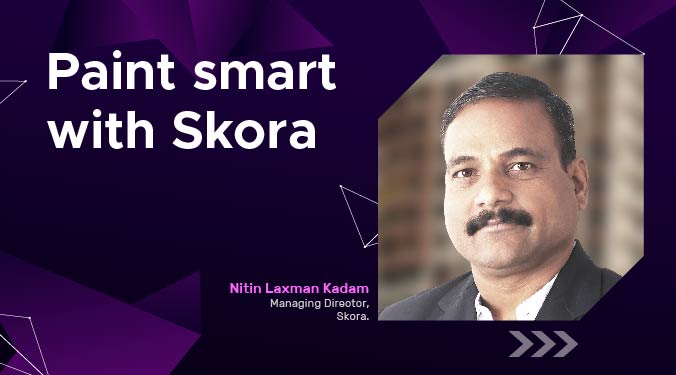 The Smart Quartz Paint technology developed via rigorous research and development by Skora Paints has resulted in a coating system that protects walls and adorns them over a long period of time, says Nitin Laxman Kadam, Managing Director, Skora. With added durability and dirt repellence, it allows high breathability with low  water absorption to the surface, he added.
Brief us about your product range.
Our Smart Paint technology allows coating to penetrate deep into the surface of the substrate which further renders the penetrated region extremely hydrophobic in nature. This is attributed to the Quartzlike structure of our Smart Paint formed by the fibre glass technology that acts like a crystalline shield against moisture. This ultimately creates a dry zone beneath the coating which prevents harmful algae and mould from forming. This property allows any existing moisture beneath the surface to easily escape the substrate rather than being locked within, which would cause problems related to dampness over time. The smart attribute also allows cement based substrates to cure fully and build strength over time.
The dry zone created beneath the surface by our Smart Paint protects the surface from salt and alkali attacks as well as prevents the formation of mould and algae that thrive in damp areas, which ultimately degrade the structure's integrity. Silanes and Siloxanes form an integral part of our Smart Paint technology that make our coating system resistant to alkali, fortifying the substrate even further. Smart Paint technology prevents reflecting IR rays keeping the substrate cool, preventing cracking.
The technology also prevents UV radiation from causing the smart colours to fade as UV rays penetrate paint coatings through cracks in the surface. With the substrate kept cool and safe from cracking, UV radiation too cannot harm the paint quality over time. The set of smart attributes of our Smart Paint has been rigorously tested to check the weathering effect on our Smart Paint as opposed to conventional paints in the industry. These ongoing tests have resulted in our Smart Paint Designing Sustainable being virtually unscathed and in extremely good condition as opposed to conventional paint.
How are your products different from the ones available in the market?
The quality of an exterior paint isn't just measured by the colour, vibrancy and finish that it achieves, but also by the amount of time it protectsyour walls. Most paint however, concentrates only of aesthetic rather than protection. Our Smart Quartz Paint on the other hand has been specifically developed to protect walls as well as beautify them over a long period of time. Our paints last well beyond the average paint which ultimately proves to be more economical to spend on repainting year-after-year. This makes using our Smart Quartz Paint undoubtedly worthwhile in the long run. Our technology provides ten problems with one solutions i.e. leakage, dampness, efflorescence, honey comb, damage by CO2, peeling flaking, chalking, mould, surface leaching and algae growth and water proofing.
Please talk about the smart paint technology.
Smart Paint Technology is like structure of our Smart Quartz Paint, the surface of the wall is left with microscopic pours that only allow moisture to exit in the form of vapour while simultaneously preventing water on the outside from penetrating the surface. Our Smart Quartz Paint technology allows the wall to breathe while the hydrophobic technology creates water beading and prevents water from penetrating into the surface. The combination of these two properties makes our Smart Quartz Paint a superior coating system with added durability as well as dirt repellence.
What are the latest trends in decorative paints?
Generally, most concrete and masonry surfaces contain some flaws like hairline cracks, porous surface finish, air pockets and so on. These are weak spots where moisture can penetrate the surface and cause further problems like dampness, mould formation and the like. Using a breathable paint such as our Smart Quartz Paint allows the wall to breath by letting moisture escape in the form of vapour while preventing any further moisture from penetrating the wall from the outside.
What makes paints durable besides being aesthetically appealing?
Our Smart Quartz Paint owes its extreme durability to the properties of low water absorption combined with high breathability. These properties are a result of the unique Quartz formulation that forms a strongly hydrophobic and waterproof layer to protect your walls.
15