Pre-planning is the key to ensure that the project remains protected during the monsoon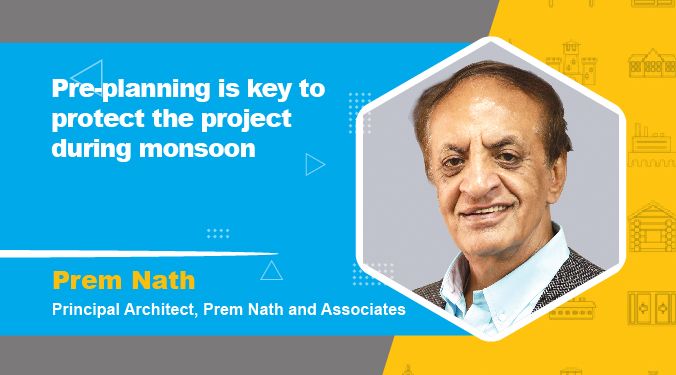 It not only elevated the quality and efficiency of the traditional methods but also introduced us to various new effective methods of which water proofing in chemical domain was one such advancement, states Prem Nath, Principal Architect, Prem Nath Architects.
Monsoon is one such time which can cause havoc on site, hence the most  efficient way to avoid it is to always plan ahead. Apart from the technological  advancements, pre-planning, critical arrangements and provisions of equipment  and labour can ensure a steady workflow for the project. There were advancements  in the traditional ways too, use of tarpaulins which are made of polymers and  other fabrics. These fabrics are usually stitched together or bolted to the  scaffolding or the framing of the building as an envelope.
When it comes to low rise residences and interiors of mass housing, recurring  issues like leakages from windows, terraces and bathrooms etc are a result of  bad workmanship. These recurring issues can be avoided in the initial stage  itself or by defeating the root cause of it; uncovered junctions between walls,  gaps in window fittings, improper plastering or negligence are some of the  causes of the recurring issues. These can be avoided by ensuring quality of  workmanship and attention to detail. Long term problems can be a big hole in the pocket; hence it is advisable to make it a point to keep a check on your  Drainage Systems, Water Pipelines and Surface leakages. 
The country has witnessed a good deal of innovation in waterproofing in the last 15- 20 years. As a  result it not only upgraded the quality and efficiency of the traditional methods but also introduced  us to various new effective methods of which water proofing in chemical  domain was one such advancement. Mixing compounds with concrete work,  plaster work and creating a dense and compact mixture shall leave no reason for  leakages. In cases of existing leakages grouting polymers and acrylic chemicals  which makes the slurry smooth and slippery reacts with water and forms  sealant, the slippery nature of the cement then allows the slurry to seep in  deeper into the cracks. Grout and Epoxy injection is one such method which is  being used widely in the domain of chemical water proofing in construction. This method helps combat dampness and seepage causing cracks through  grouting and then injecting the chemical into it. The chemical reacts with water and a form a gel/foam sealant, this method has proves to be undefiled in  tunnels, foundation walls etc.
There have been multiple technological advancements and it is leaving no  stones unturned. Efficient use of technology has brought us the future of water  proofing. There are various no fuss methods such as sealants, chemical  coatings which are transparent or are available in neutral shades. Another  method of surface covering is the mixture of polymer and cement. Many  companies have mastered this art are working forward namely; Dr. Fixit,  Pidilite, Imperno etc.  
For a monsoon proof building it is necessary for all architects,  planners, contractors and engineers to make sure the following; There are no  faces of building left exposed, all the construction joints to be filled in/finished carefully, there shall be no unfilled gaps or cracks left between the framing of  the openings, all the exterior surfaces shall be covered with textured plaster or  coating. It is also important to make sure the exterior faces of the buildings are  covered in high quality finishes, which not only give a definition to the building  but also ensure long term water proofing. Monumental buildings like Taj Mahal  finished with marble and Empire State Building finished with granite are  examples of high quality exterior finishes. Today in this age of technology there  are many inventions such has; high pressure laminate tiles, dry cladding, stone  finishes; in case of high rise buildings thin tiles cladding, ceramic tiles which  are light weight can also be used. I would define this as 'High Rise, High Price' and highlight that it is necessary to give special attention to the high rise  buildings.  
Other that first hand solutions it is also necessary to plan the second hand or the  back ends of the project. Budgeting of the project; using the right amount of  money for the right materials, quality of workmanship which has a combination  of skilled and unskilled workers are some factors which can affect other than  the materials and the products. 
7