Monsoon months can be a challenge for any under-construction building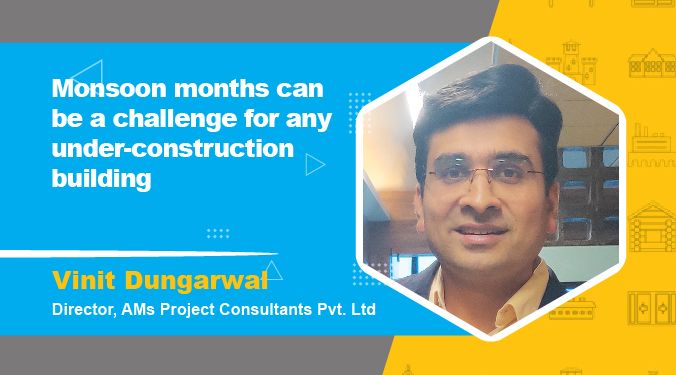 Hence it is necessary to ensure that the core structure of under construction buildings should be ready before the monsoon season sets in, says Vinit Dungarwal, Director at AMs Project Consultants Pvt. Ltd.
Most of the under-construction buildings witness two or more cycles of monsoon, what are some of the efficient ways to ensure they remain protected?
The monsoon months can be a challenge for any under-construction building and high rise buildings are no exception. The best way to keep under construction buildings protected is to make sure that the core structure is ready before the monsoon season sets in. If the structure is ready then the internal work can continue at its own pace and there is not much to be worried about. As project managers, we make sure that there is an efficient drainage system at every site. Before the monsoon season starts, we ensure that the rainwater does not accumulate at any place. Another important thing to keep in mind is that all material and critical machinery should be kept in a sheltered place where there is no moisture to avoid any damage. 
What are some of the pertinent issues which crop up when it comes to homes and mass consumption properties, especially in the monsoon?
The common issue that crops up during the monsoon season is waterlogging. There are also complaints of leakages and damages pertaining to open areas. Due to the moisture in the air, there are also chances of rusting. Rusting could be to the structure or of the building equipment.  Care should be taken to avoid rusting as replacing equipment or parts of the structure can cost time and money. 
Given the hassles, most people avoid shifting during monsoon. The property market too is a little dull during the period and construction activities also have to be halted.  
What kind of evolution has been witnessed in the construction chemicals domain when it comes to efficient waterproofing? What are the different products available?
The construction chemical domain has come a long way. There are a lot of options available to project managers and developers when it comes to waterproofing. Some of the popular options include Nanotechnology, Crystalline and waterproofing membranes. There is also a self-healing water-repellent spray-on coating that is being used nowadays. 
Coming over to products too, there is an option to choose from Cementitious waterproofing, Liquid Waterproofing Membrane, Bituminous Membrane, Bituminous Coating and Polyurethane Liquid membrane to name a few.
The developers and project managers can choose the best solution from these wide range of products and solutions. They can weigh the pros and cons of each of these and use the one that fits their needs the best.                   
Especially in high-rises where reaching external spots for waterproofing and repair is a tough ask, what can be done and what solutions are available?
In case of high rises, the scaffolding needs to be done properly likewise shortcuts should be avoided and proper protocols of building and construction should be followed, this will ensure minimum damages.  . It is advisable to adopt the best practices and avoid damages rather than doing repairs at a later stage. 
30