Chemicals have played a very crucial role in waterproofing technology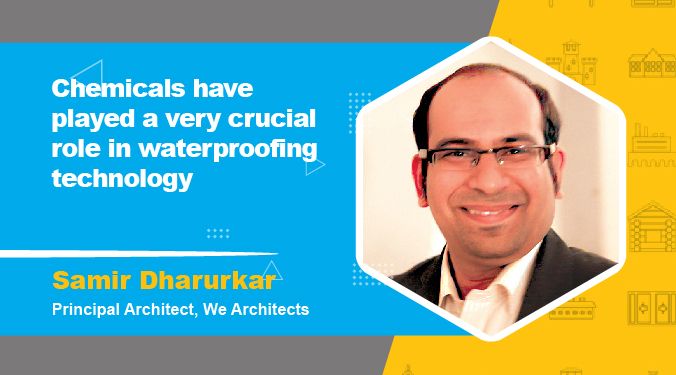 People are changing their mindset from traditional brickbat coba type of waterproofing. Today many chemicals are available which gives you a minimum 10 years guarantee too says Samir Dharurkar, Principal Architect, We Architects
Most of the under construction buildings witness two or more cycles of monsoon, what are some of the efficient ways to ensure they remain protected?
Monsoons are the most critical period for under construction buildings. They need to be protected perfectly as any concrete is porous in nature. Generally Tarpaulin sheets with temporary Bamboo supports are used for protection
What are some of the pertinent issues which crop up when it comes to homes and mass consumption properties especially in monsoon?
LEAKAGE is the main pertinent issue in monsoon. Most of the buyers avoid top floor properties because of the same. It's been a severe problem in old properties. But nowadays we have the best technologies to avoid water leakage problems.
What kind of evolution has been witnessed in the construction chemicals domain when it comes to efficient waterproofing? What are the different products available?
Chemicals have played a very crucial role in waterproofing technology. People are changing their mindset from traditional brickbat coba type of waterproofing. Today many chemicals are available which gives you a minimum 10 years guarantee too. Many Indian companies' products like Sunanda, Roff, Dr. Fixit are widely used in the construction industry along with few imported products like Kera Koll, Penetron etc.
Especially in high-rises where reaching external spots for waterproofing and repair is a tough ask, what can be done and what solutions are available?
Best thing is to avoid repairs. Prevention is always better than cure. I would suggest spending a little extra towards the correct product at construction stage only. Ultimately you may land up paying more towards repairs. Nowadays we have very efficient cranes, cradles, spiderman type systems for high rise buildings. But these repairs have to be carried out considering all safety factors.
As an expert if you are asked to draft a monsoon proof design, what will you propose, what will be the essentials involved in terms of material and product usage apart from the design itself?
Currently all reputed builders are very cautious about waterproofing. Many products are available in the market, chemical waterproofing, membrane type,  PU ( polyurethane ) etc.  We have to choose the correct material after studying all parameters. Each project may have different solutions. Many criterias like – climate, geological location, type of construction ( RCC, Maiwan etc. ) are to be considered. We may consult waterproofing consultants for the same.
13