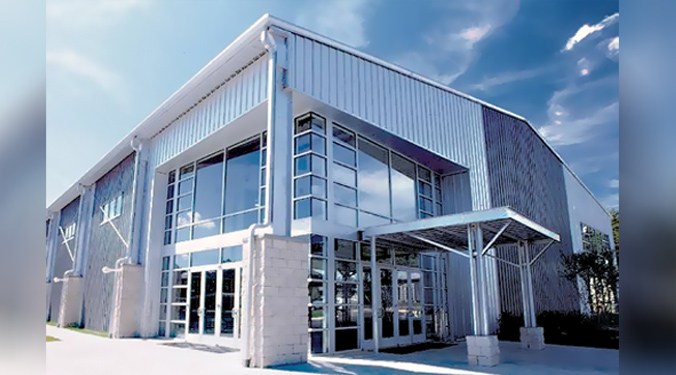 As the concern for green and sustainable construction becomes a norm builder, developers and EPC Contractors are all keen to build responsibly. Prefab and PEB have an important role to play in this development
As construction process evolves, newer methods of building homes and infrastructure come into play.  It is essential to keep a tab on these processes primarily because they act as game changers in the industry. The contemporary methods of Indian building and construction followed a set framework, which involved a lot of tasks to be executed on site. Likewise there was no way to build structures which could be, let's say dismantled and reused at a different site, at a different point in time. This was so because there were no alternatives to look into. However with the inception of prefab and PEB a much anticipated change was finally made possible.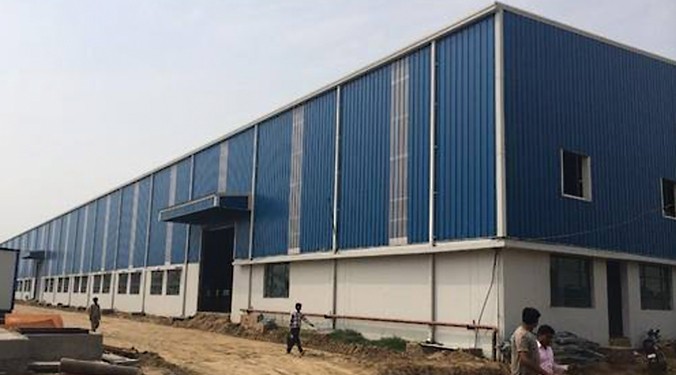 As the concern for green and sustainable construction becomes a norm builder, developers and EPC Contractors are all keen to build responsibly. In this scenario too PEB and Prefab have a big role to play, since they can infuse the quotient of green and sustainability in the projects they are utilized in.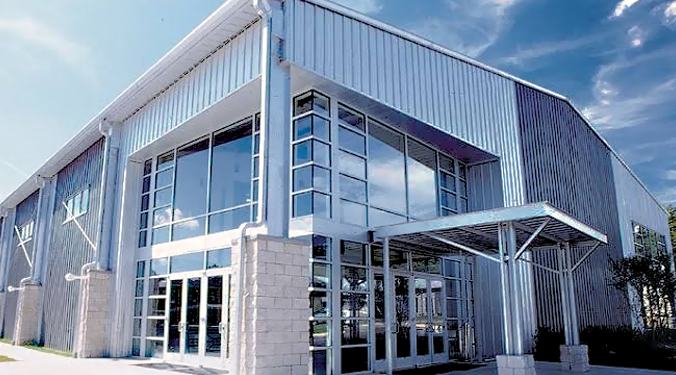 Precast concrete contributes to green building practices in significant ways. The low water-cement ratios possible with precast concrete -0.36 to 0.38- mean it can be extremely durable. The thermal mass of concrete allows shifting of heating and cooling loads in a structure to help reduce mechanical-system requirements. Because precast concrete is factory-made, there is little waste created in the plant (most plants employ exact-batching technologies) and it reduces construction waste and debris on site, reducing construction IAQ concerns. The load-carrying capacities, optimized cross sections, and long spans possible with precast concrete members help eliminate redundant members, and concrete readily accommodates recycled content.
In the housing market, Green has discovered an unlikely partner. Prefabricated housing, in which the majority of a home's construction is pre-built in a factory and then assembled on site, is an unusually natural partner for the green movement, despite the fact that they may appear to be an odd marriage. Prefab or modular homes can be built more effectively than traditional residences, using less energy and creating less waste in the process. Modern prefab homes are adaptable, lovely and made to blend in with its surroundings. Prefab homes have evolved over the past ten years from ugly, concrete, cookie-cutter subdivisions to exquisite, sleek, and fashionable residences where sustainability is an inherent element of the building process.
Samir Dharurkar, Principal Architect, We Architects points out "The prefab and precast definitely supports sustainable and green construction as there is less use of cement, mortar. It always results in faster completion too. Hence it is widely used abroad. There is a less manpower required compared to traditional way of casting RCC column beams etc."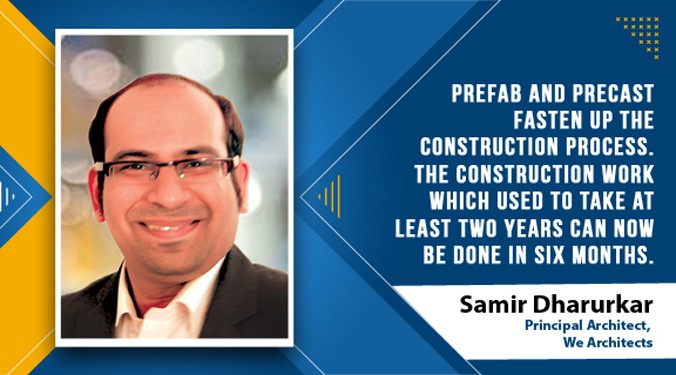 Voicing a similar opinion and elucidating further, Vimal Yadav, Head of Architecture Cell, Intercontinental Consultant & Technocrates Private Limited adds "Prefab and precast comes under modular construction which is themost sustainable way of construction. The characteristics of sustainable construction are: use of recycled materials, limiting the wastage, limiting the transport, water efficiency etc. Prefab and Precast construction meets most of these criteria. In addition to these, prefab and precast technique requires less energy during casting and fabrication because of production in a controlled environment. The use of Precast and Prefab technique also reduces the time required for construction which also helps in reduction of carbon footprints as less transportation is required for materials and resources. Apart from this precast concrete meets as well as exceeds LEED specifications for environmental responsibility and long-term sustainability which is a difficult challenge to achieve with cast-in-place concrete. Modular construction is lightweight in comparison to traditional methods of construction which results in a lighter structure and reduced foundation sizes. This helps in reducing disturbance of the natural profile of the land and makes it more sustainable choice."
Real estate project or infrastructure project every other project is deadline driven. In such cases it is essential to catalyze the process of construction and see to it that projects can be delivered on time. In this critical scenario too prefab and precast have a big role to play.
Samir says "Prefab and precast fasten up the construction process. The construction work which used to take at least two years can now be done in six months. As there is no curing time for RCC. And all members can be manufactured at factory and easily assembled at site. It required lesser storage and circulation spaces too. However initial costing is little high but we have good assured returns as steel structures has the best resale cost"
Pointing out the cons of on-site construction and the benefits of prefab and precast Vimal adds "On site construction has its own risks and complications and there is a chance of quality to be compromised. In prefab and precast construction the elements are produced in a controlled environment which mitigates the quality issues of the site and results in smooth execution of the project without any rework due to appropriate quality. The use of this system ultimately speeds up (catalyses) the overall process of construction. On site fabrication requires skilled labour and their consistent quality output which is very difficult to maintain. In onsite fabrication and construction the work also suffers due to weather conditions which do not have any impact on pre-fabricated and pre cast construction. Pre-cast construction does not produce wastage which also saves time required for disposal and management of the wastage. In the current Covid scenario, the modular construction helped a lot in creating new Covid Centres and quarantine centres in a rapid speed in order to accommodate the Covid patients. In general, the modular construction takes almost half the time as that of traditional on site fabrication and cast in situ construction. This is making the modular construction a popular choice and future of the construction industry."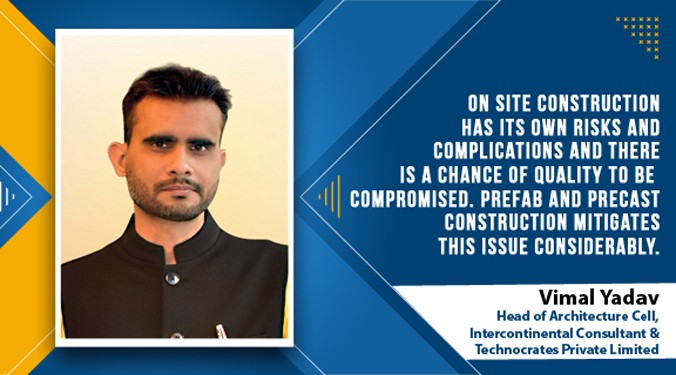 15