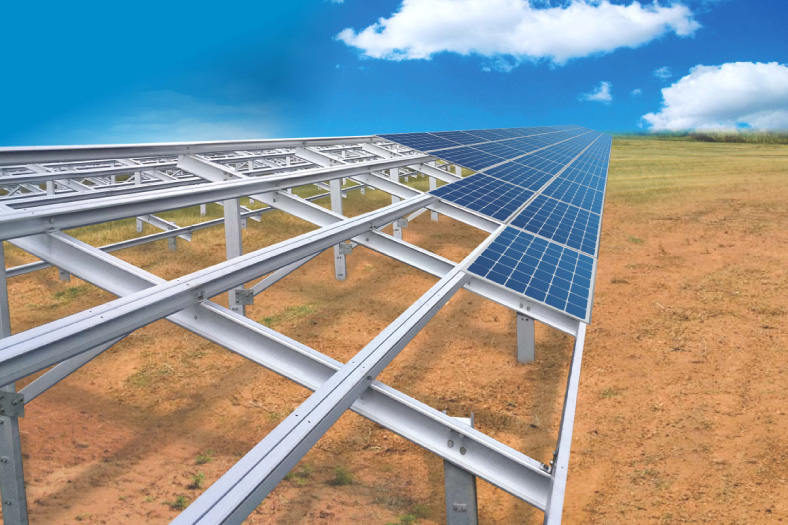 Tata BlueScope Steel announces the launch of its indigenous brand ILIOS, a solar module mounting solution to cater, to the increasing demand of the renewable energy sector in India.
With ILIOS, TBSL would be addressing the demand for quality products under its flagship brand LYSAGHT, for both roof and ground mounting solutions. ILIOS comes with a wide range of sectional dimensions and thicknesses; making it suitable for every requirement. These customised mounting structures are manufactured from cold rolled Zn-Al/Zn coated steel that offers high corrosion resistance, weight optimisation and quick installation.
The high strength steel ensures better load bearing capacity and longer spans.
Speaking on this occasion, Ajay Rattan, GM – Sales, Construction and Engineering ate TBSL said, "ILIOS is one step forward in consolidating our offerings for the solar segment under a single Brand. These specialised solutions enable an integrated approach, in terms of design detailing, engineering support, installation and material supply. So far we have been associated with major projects across India, amounting to 1.2 GW capacity."
He further added, "Our strong team of design engineers help in optimising the weight of mounting structures, thereby reducing the overall cost of the structure and in turn the cost of the project. One of the most tactical advantages is our manufacturing facilities spread across India, ensuring on-time delivery and faster project completion."
Riten Choudhury, Managing Director, Tata BlueScope Steel said, "Solar segment is poised for an exponential growth in the near future. It is essential for us to provide optimised and high quality solutions for bridging the demand supply gap. With ILIOS, we aim to offer customised solutions suitable for every customer's requirement."
7