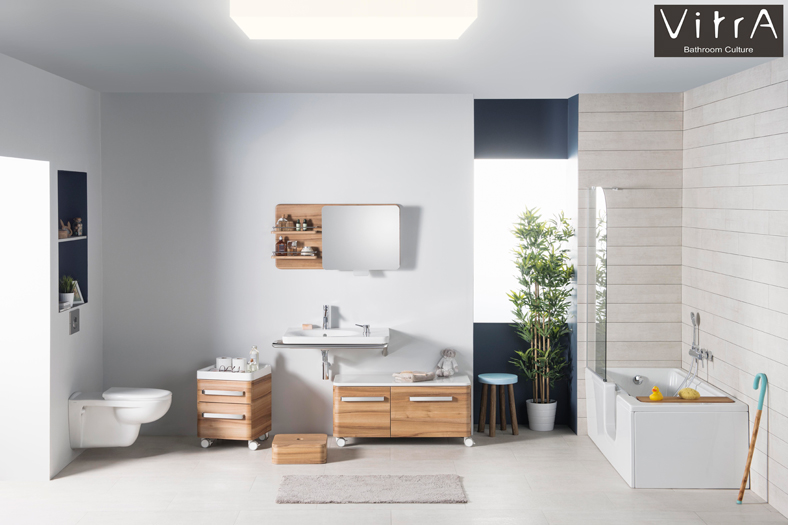 VitrA, the bathroom solutions brand of Eczacbas Building Products Division in Turkey, introduced a 'The Nest- Design For All Series' which considers different needs and styles and provides common solutions for everyone regardless of age, ability or condition. This series is designed by Pentagon Design a leading Finnish design agency. Nest – Design for All series by VitrA combines design, ergonomics and functionality with VitrA Distinction.
The Nest – Design for All Series by VitrA offers special products for hospitals, hotels and other public buildings considering the special needs. The multifunctional grab bar ensures safer use, the wall- hung WC pan facilitates cleaning, and the faucet provides easy access and control by virtue of its designs and position. The mirror with adjustable angle offers users a new comfortable experience.
Equipped with smart functionality the Nest – Design offers shelves that serve as alternative storage spaces. Where as the handle of the faucets from this collection is specially designed to make it easy for children, physically handicapped people and elderly people to turn the faucets on and off and control water flow. The universal and aesthetics norm used to design this series is suitable for any age or condition in response to large audience and diverse needs.
This series by VitrA adds pleasure and comfort to 'Users'. The mobile unit comes with two drawers and is suitable for wet use, thanks to its water resistant acrylic tray. Moreover it's easy to clean. The unit also has wheels that give mobility and can also be looked to prevent skidding and ensure safe use.
With a wide range of functional products designed along new generation modularity VitrA offers water resistant acrylic top surface of the unit that it can be used as a hygiene rest area after a shower and lockable wheels for safe use. In addition to a large covered space for storage.
For more details, visit www.vitra-india.com
10