We offer modern, dynamic and aesthetically appealing tiles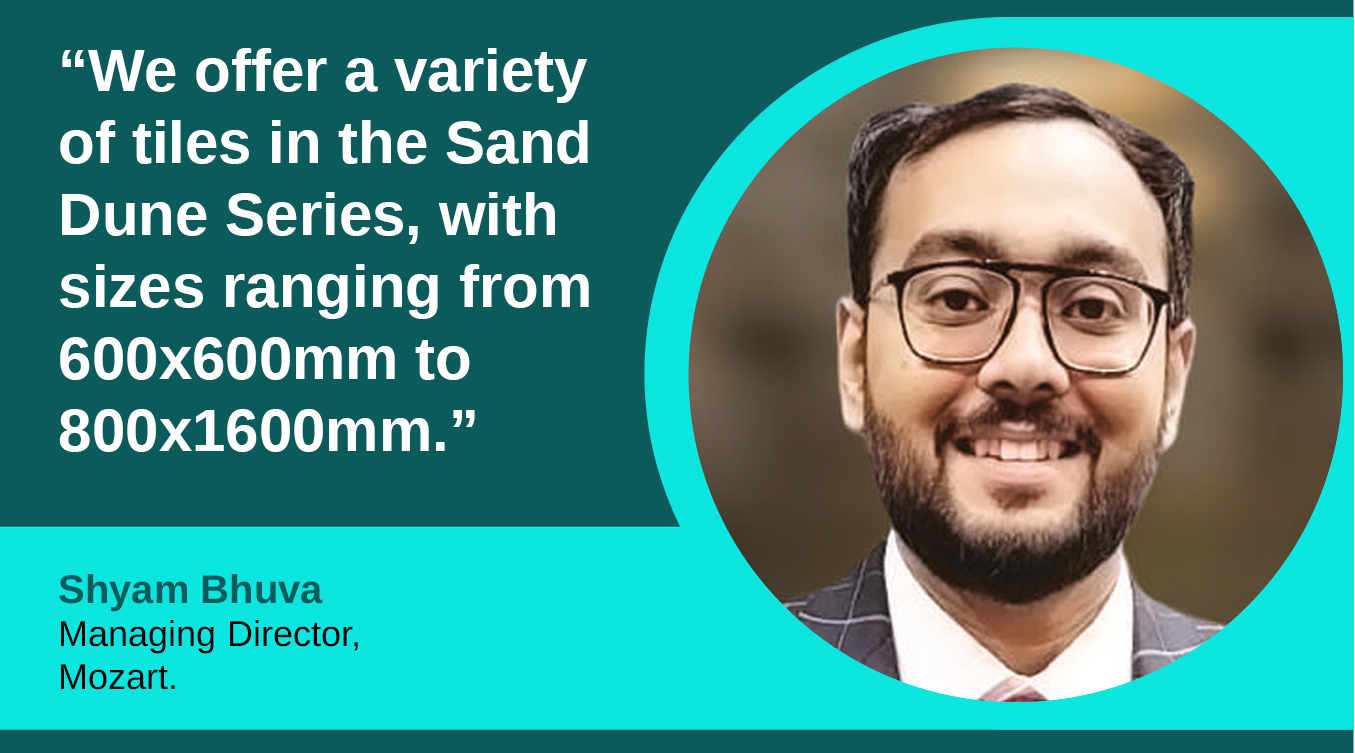 Shyam Bhuva, Managing Director of Mozart, speaks about features and architectural trends in tiles.
What distinguishing features of your tiles make you stand out in the industry?
Our full-body tiles provide composition, strength, thickness, durability, and quality. The process of vitrification is what produces vitrified tiles. It acquires extremely little porosity due to this procedure, which reduces water absorption. Because of its distinctive qualities, some prefer it to more expensive options like granite or marble. Clay and silica are combined to create vitrified tiles. High temperatures are used to fuse this material, giving it its distinctive texture. It is non-porous and has a glass-like sheen to it. Additionally, unlike ceramic tiles, these tiles do not require additional glazing.
What kinds of designs are most in-demand nowadays, especially considering the necessity for architectural specifications?
There is a high demand for certain of our lines in the market, like the Europa Collection and Terrazzo Plus Collection. Tiles with geometric patterns, such as hexagons, chevrons, or Moroccan-inspired motifs, are in high demand. These designs bring a contemporary and stylish touch to spaces, adding visual interest and depth. Whether used as a focal point or to create an intricate pattern across a larger area, geometric tiles offer a modern and dynamic aesthetic that appeals to various design preferences.
What are the best technologies used for tile coating durability?
Epoxy floor coating is used for tile coating for durability. In industrial and warehouse buildings, epoxy flooring is a commonly used option to enhance the floor's stability, durability, and appearance. For garage floor coating or any other outdoor surfaces, epoxy flooring works perfectly as it has high resistance against usual wear and tear.
How are global supply chain difficulties posing challenges for your company?
Global supply networks have become even more vulnerable due to a confluence of local and national lockdowns, shortages of raw materials, and political and economic turmoil. Global supply chains are prone to delays since they invariably include lengthy journeys and numerous processes. The shipments are vulnerable to unforeseen delays because the commodities have long lead times.
What do you think about green materials that go beyond popular architectural ideas?
Green architecture is a philosophy focused on designing buildings with the lowest possible negative impact on the surrounding environment by using sustainable materials and energy sources in construction.
13