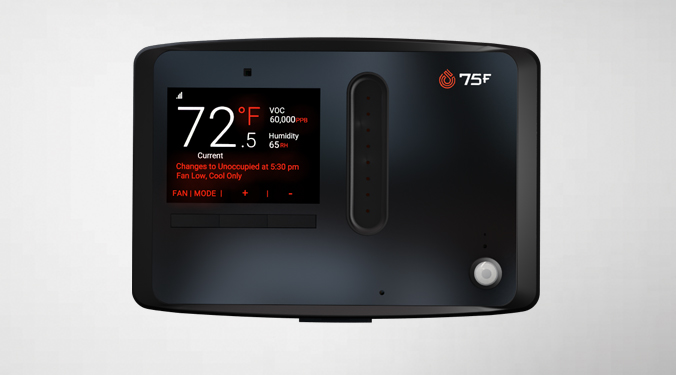 400 years ago, a rudimentary thermostat was inventedto keep eggs warm. Programmable thermostats withbasic schedules have existed since 1906. Over the yearshumidity sensors and digital screens may have beenadded, BACnet connectivity or remote access, but until now, thedevice capability has remained relatively unchanged.
The 75F HyperStat heralds a new future of more connected,capable, and intelligent devices. It's a wired (RS-485) orwireless thermostat, humidistat, and indoor air quality sensingstation crafted to support healthy, comfortable commercialbuildings with eight onboard sensors measuring occupancy,temperature, humidity, VOCs, light, sound, CO2, and PM2.5particulates. Instead of multiple room sensors or complexsystem integrations and HVAC control, the HyperStat is themost visible new addition to 75F's end-to-end solution forHVAC: A single, intuitive, and affordable platform that hasbeen proven in third-party tests to deliver industry-leadingenergy savings.
Unlike WiFi-based controls that have a limited range or strugglewith the steel and concrete in buildings, the HyperStat utilizes75F's self-assembling and self-healing long-range wireless meshnetwork for secure and reliable connectivity. Sophisticated logicworks to find the fastest route to the 75F CCU gateway and cloud,pushing air quality data up for whole-building analysis every 60seconds and receiving decisions and precise micro-adjustmentsof lighting and HVAC equipment to improve comfort and makeany commercial building more energy efficient. Automatically.
The HyperStat comes packed with two analog inputs, three analogoutputs, and six relays that leverage software-defined controlcapabilities for all types of HVAC equipment, today or in thefuture. The HyperStat has pre-programmed sequences for all typesof equipment including three-stage RTUs, split systems, WSHP,two and four-pipe FCUs, radiators, etc. In addition, it can act asthe local interface and sensing for VAV controllers. The HyperStatincludes applications such as Demand Control Ventilation, opendoor, and window sensing, and equipment status.
Our recent experience with the global pandemic and infectiousaerosols has elevated awareness of the need to not just monitorbut manage indoor air quality. The HyperStat device makes IAQdata accessible to all by breaking through firstcost barriers forhardware (by bundling all sensors onboard), networking (byautomatic 900 MHz wireless mesh networking), and programming(by algorithms that continuously update over the air), all whilesaving costs and energy from the moment it is installed.
400 years ago, mankind invented a device to control thetemperature. Today, we've perfected it.
For more information, visit: www.75f.io
20