Architecture is a confluence of infinity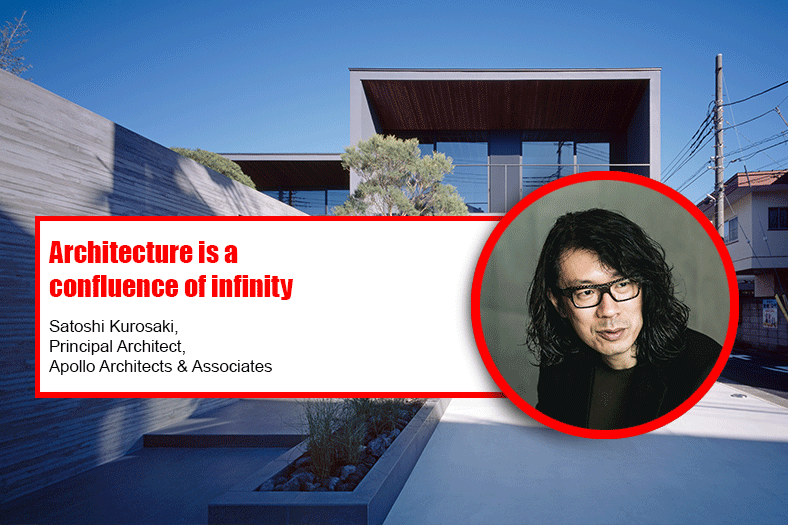 From 'SEVEN' to 'Power of Ten', in a conversation with Vikas Bhadra, Architect Satoshi Kurosaki summarises his journey in the world of architecture with some interesting anecdotes. 
The 'Power of Ten' which led me to become an architect
I believe that good design is something that is based around tradition and culture and yet it never gets old. Rather, the most important element would be something that feels new and towards the future.  When I was in high school, I saw a short science film called "Powers of Ten" by Charles and Ray Eames who worked on various projects in the field of furniture, products, architecture, and movies etc. and that led me to want to become an architect. The fact that they called themselves architects while practicing their creative prowess across various fields with different viewpoints made me admire them.
Initial Success
My first project was SEVEN (7 tsubo= about 23m2 small house built in a city). It has something in common with Tadao Ando's small city house, "Row House of Sumiyoshi".  It truly gave me a lot of happiness when SEVEN was published in a book, furthermore the editor conveyed to me the words of encouragement Mr Ando himself had for me and that is something I would never forget. SEVEN, a city house (7 tsubo, 5 story-house) was also the first project I designed after the inception of my firm.
The viral effect
SEVEN was published in more than 100 media (both in architectural and non architectural ones). After that, I worked on mostly city houses for several years. SEVEN in a way embodied the ambition of people in 20s and 30s who want a house in a city.  
Client needs and creativity
Architecture consists of clients' needs but at the same time its connection as also impact on the society and environment needs to be closely looked at. I don't just take in clients' needs into consideration as they are. I always analyze its impact on the society and the surrounding environment and question "Why". After reinterpreting with a  deeper understanding, I finally suggest a project concept. The important part for me then is to explain the concept to them in the most simple way until they truly understand.
Reform by Design
For me different projects pose different kinds of challenges. Challenges for me are opportunities which define the limits of creative expression, so in a way these challenges are good omen which lets me, as a professional, address the difficulty and come up with a design resolution.
Material of choice
I have been using the material and structure of reinforced concrete. Exposed concrete, especially has significantly evolved in the area of quality management, form work presentations for plant facilities and architectural sites. After establishing my own firm, in several projects I have used reinforced concrete, having said that I'm also interested in utilising new materials and technologies which might play a big role in new age architecture and design.
Architecture is a confluence of infinity
In addition to "Strength, Function, and Beauty", as advocated by Roman architect, Marcus Vitruvius Pollio, "Sustainability" including energy and ecology is crucial to architecture in coming years.  As architects we have to use the design tools at our disposal to not just build but create an ecosystem where we can exists in harmony with nature and the humankind 

My recent projects
My latest work ORTHO embodied  "Strength, Function, and Beauty" in balance. Under COVID19 situation, the needs for "Public residence" which has elements of office, hotel, or gallery within "private residence" grew as clients' requests.  This ranch-style home is located in a quiet suburban neighborhood in the Kanto region. The design of Ortho makes use of the distinctive shape of the property and topography.
Japanese Craftsmanship – The weapon of choice
Despite its size (whether big or small), craftsmanship of detailed work in architecture is one of the biggest characteristics of Japanese architecture. It is a weapon and clients from all over the world are constantly seeking it. This never changes.
14