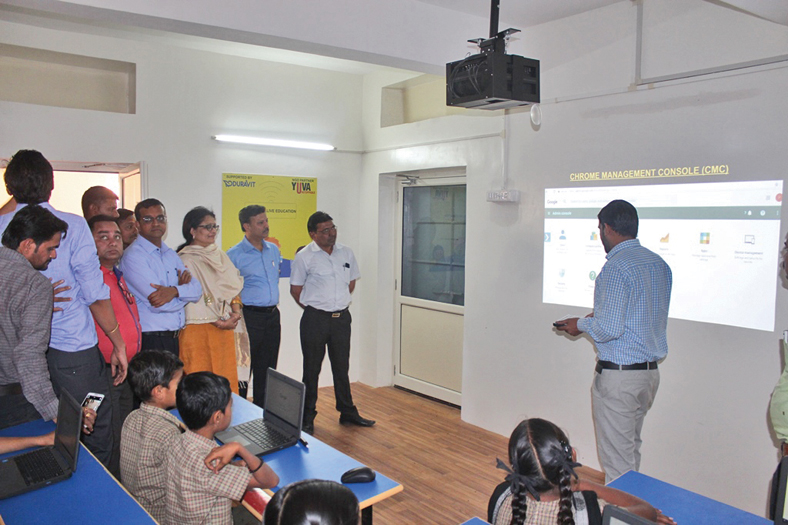 In today's world, smart classroom is not a new thing, but still a dream for many! In a world of top-rated schools have we ever imagined a school which lacks from basic facilities? Forget smart classroom, there are schools which don't even have proper drinking water and toilets.
There are also challenges in terms of having separate provision for cleaning and drinking water. This led to wastage and contamination of drinking water. At times, the taps are not in working condition and unhygienic due to which the drinking water is not available for the students.
Duravit believes that the quality of education is the first step in building a skilled and developed community. By providing a comfortable hygienic environment, training and skills development initiatives, it can help the next generation to drive and sustain their own personal and community development.
The international manufacturer of designer bathrooms Duravit, being a socially responsible company, decided to bring a grassroots education revolution in a small village like Indranaj, where the company's factory is situated. As a part of its CSR initiative, Duravit India adopted Indranaj Primary School in Tarapur, District Anand of Gujarat last year and took a small step to develop its library building. This year the company identified some key issues in the same school like providing safe drinking water, smart classroom equipped with latest technologies, and sanitation and hygiene which secure children's dignity, safety, health and attendance in classes. Duravit has installed K-YAN, a multimedia-based education tool. They have provided chrome book, camera, air-conditioner, benches and carpets.
Duravit India initiated to develop classroom technology which allows students to feel empowered as they get the chance to co-create the knowledge imparted in books and also some will find this medium entertaining. School is an important part of kids' life. The newly painted walls along with theme paintings which make school an exciting and interesting place to learn. Through this initiative, Duravit India aims more children can continuously attend the school and to realize the independent and sustainable efforts by local residents in the community to enhance the education environment.
Asutosh Shah, MD, Duravit India reiterated Duravit's commitment towards playing a vital role in nation building. During the opening ceremony, he said that Duravit will take such kind of initiative and provide proper support in future also.
14