Elevating tranquillity at the Airavat Residence amidst Sahyadri's enchanting backdrop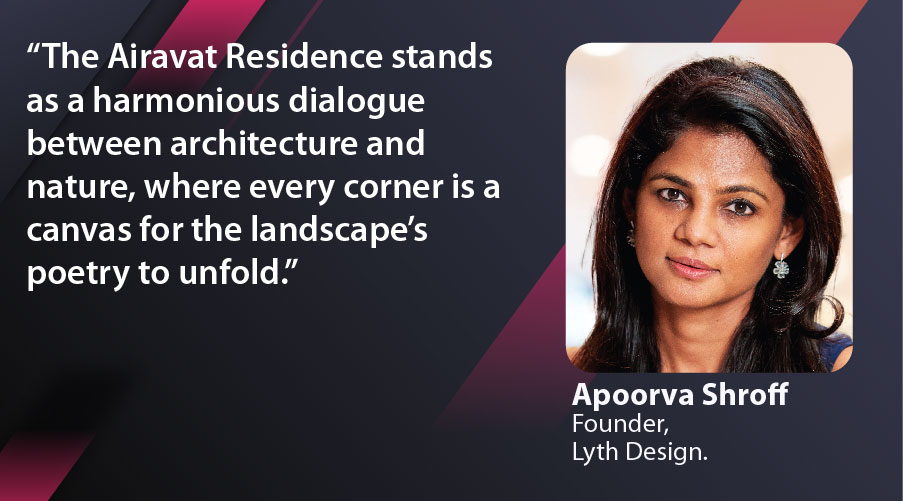 "The Airavat Residence stands as a harmonious dialogue between architecture and nature, where every corner is a canvas for the landscape's poetry to unfold."  Apoorva Shroff, Founder, Lyth Design 
As an architect deeply passionate about pushing the boundaries of design, I embarked on a remarkable journey with the creation of the Airavat Residence. Situated on the outskirts of the bustling city of Mumbai, this project allowed me to fuse nature's splendour with architectural ingenuity, resulting in a breathtaking testament to the seamless integration of environment and structure.
The Sahyadri hills cradle the Airavat Residence, bestowing it with a serene backdrop that showcases the stunning Western Ghats from almost every angle. My inspiration sprang from these sweeping vistas, and my goal was clear – to encapsulate the picturesque beauty of the landscape and bring it to life within the confines of the home.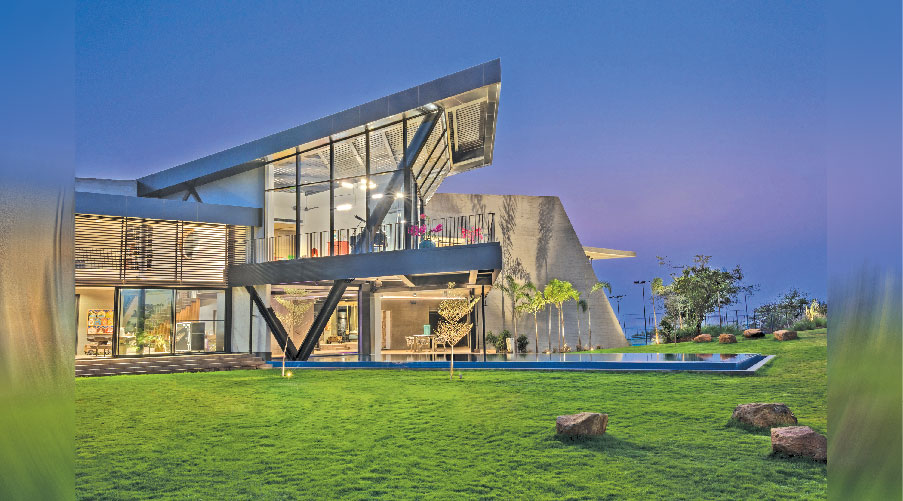 Approaching the residence, one is greeted by a grandeur that mirrors the experience of stepping into the clouds. A sprawling canopy extends over the entrance, framing the first glimpse of the dwelling like a majestic wing. The journey begins beside a mist-kissed lotus pond, offering a refreshing pause after the drive from Mumbai's urban hustle.
Concrete and metal, two elemental materials, became the canvas for my architectural vision. Their union birthed interstitial spaces as intimate courtyards or captivating vantage points. Through meticulous planning, two parallel concrete walls emerged as the architectural axis, seamlessly linking three blocks – each earmarked for public, private, and recreational functions.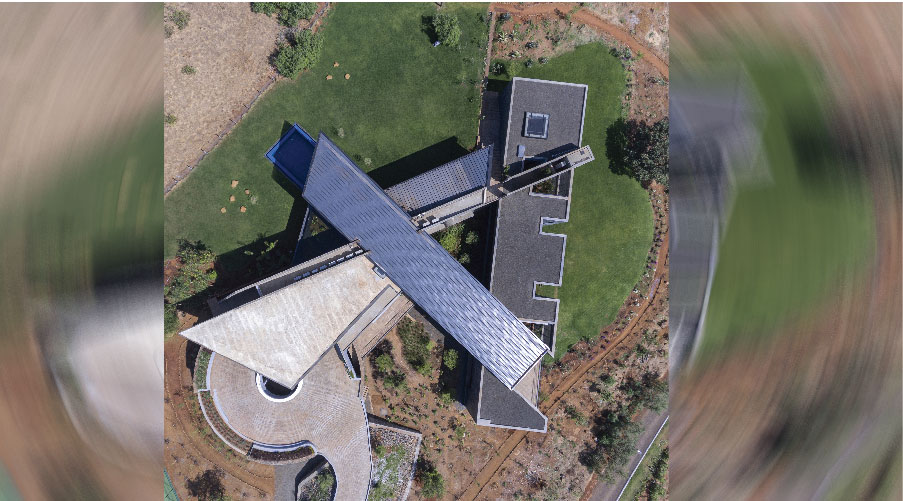 Material selection was a deliberate process, carefully chosen to enhance each space's character. Glass and steel took centre stage in public areas, forging a constant dialogue with the surrounding nature. In contrast, slate stone cocooned private spaces, infusing them with seclusion and intimacy. These elements harmoniously anchored themselves within the enfolding embrace of the concrete spine, the unifying force that breathes life into the design.
The design extends beyond aesthetics, weaving a narrative of optimal airflow and natural ventilation. The artful placement of windows, corridors, and overhangs orchestrates a continuous exchange of fresh air, rendering the house a living, breathing entity. Sliding windows erase the boundary between indoors and outdoors, inviting the landscape to waltz within gracefully. Verandahs and a partially covered pool defy the region's extreme weather, extending living spaces into the embrace of nature.
The land's undulating contours became the guiding muse for the Airavat Residence's architectural rhythm. I drew inspiration from the natural terracing, resulting in multiple levels connecting the structure with its surroundings. A suspended metal block and a cantilevered southern tip pay homage to the land's organic flow, allowing it to meander beneath, untouched and undisturbed.
for more info visit : https://lythdesign.com/
17