A serene escape blending nature and luxury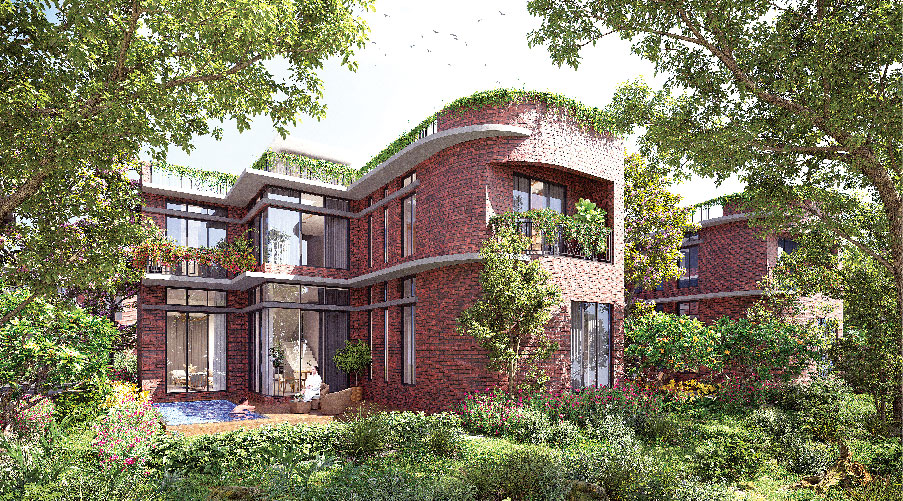 "In the embrace of Arunyam's natural haven, luxury finds its tranquil counterpart, and together they compose a symphony of serenity that resonates with the soul."
Nestled in the tranquil embrace of Takawe, near Talegaon, Arunyam stands as a testament to the harmonious coexistence of contemporary comforts and natural beauty. Developed across 95 acres by IMK Architects, this second home project is a mere one-hour drive away from Pune, yet it transports you worlds away from the bustling city life.
Perched at an elevation of 2185 meters, Arunyam derives its name from the Sanskrit term for 'forests.' It's an apt moniker as the project is seamlessly integrated with the lush surroundings of forests, hills, and a serene lake. This 95-acre enclave is an urban retreat that transcends the ordinary, offering a unique connection with nature.
The core ethos of "designing with nature" is evident right from the entrance – a grand gate that draws inspiration from the organic world. Phase one of Arunyam comprises 68 villas thoughtfully placed to offer residents panoramic views of the lake and verdant landscapes. Each villa maintains a strong connection with nature, bringing the outdoors in through large windows and rustic aesthetic choices.
The highlight of Arunyam is its lakefront, extending 1.5 kilometers. Along this stretch, a picturesque promenade, a camping zone, and a charming jetty create a magnetic allure. The designers have considered every detail, ensuring direct access to the tranquil lake waters for those seeking peaceful moments or engaging water activities.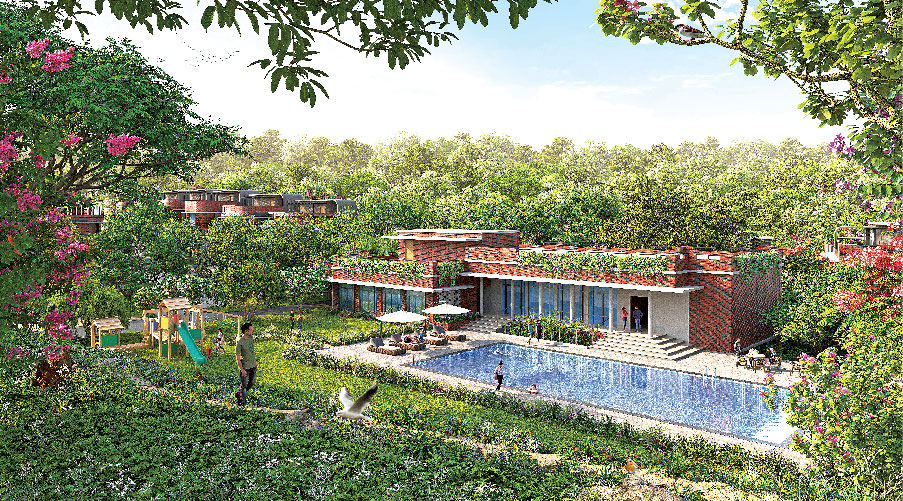 Arunyam's villas reflect a perfect blend of rustic charm and urban conveniences. With five distinct configurations spanning 2,600 to 4,000 square feet, the villas nestle harmoniously on the natural slopes. Rooftop gardens, private pools, and cozy jacuzzis cater to diverse preferences, while the interior design maximizes daylight and ventilation through full-height windows and jali walls.
Sustainability is the foundation of Arunyam's design. Solar power energizes both the villas and the clubhouse. The latter serves as a hub of amenities, including a café, convenience store, games room, spa, and gym. Designed with climate-responsive principles, the architecture beautifully blends with the natural landscape, boasting exposed brick exteriors and rooftop gardens adorned with native vegetation.
Championing eco-consciousness, Arunyam integrates wooden chalets and fabric tents for camping while adhering to high flood line restrictions. A temporary yet enchanting concept, this adds an element of adventure. The forest trail, spanning 650 meters, weaves through the landscape, providing an immersive experience and connecting residents with the native flora.
Arunyam's charm extends to shaded pavilions, pebbled walkways by streams, and indigenous fruit trees cultivated on the steeper slopes. This harmonious blend of nature and luxury promises a retreat experience that resonates with individuals of all ages.
In a fast-paced world, Arunyam offers solace – an oasis where urbanity meets rusticity, and tranquility meets modern comfort. It's a symphony composed by nature and curated by IMK Architects, inviting you to embrace a life where serenity and luxury intertwine.
for more info visit : https://imkarchitects.com/
43