Epic Elevators offer a range of solutions for energy efficiency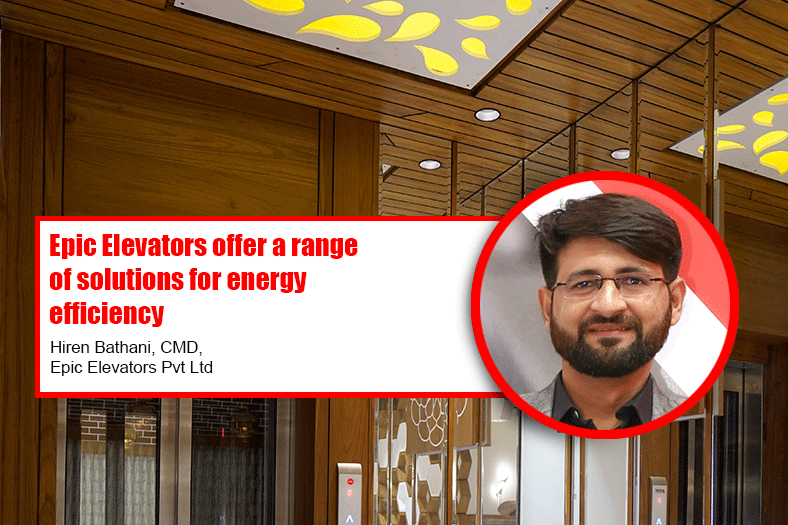 By optimising  motor design, LED lighting and gearless machines; Epic  has constantly endeavoured to make its elevators energy efficient opines Hiren Bathani, CMD, Epic Elevators Pvt Ltd.
What are some of the key element which enhances the safety features of your mobility solutions?
Epic Elevators was established with a vision to develop next-generation elevating solutions to move people safely, comfortably and efficiently. Our vision has always been to help people rise above and to embrace technological advancements and emerge as a brand that people trust for a smoother and safer ride. Epic's inventory comprises of the widest range of elevators designed and engineered by a team of expert engineers and technicians. Our expertise and the quality of our products have provided us with a platform to emerge as India's fastest growing Elevator MNC. 
At Epic Elevators, our elevator systems adhere to strict safety codes and standards and incorporate a wide variety of features like safety brakes, door sensors, hoistway door interlocks, hoistway safety switches, emergency evacuation feature, emergency alarm switches, fire emergency systems and more.
What makes your products energy efficient?
When it comes to energy efficiency, we try and meet the needs of our clients.  Epic Elevators offer a range of solutions that helps in making the elevator energy efficient and they are as follows:
Optimised motor design – offering high efficiency of power conversion. 
LED Lighting – consumes less energy. 
Gearless machines – better performance and lesser energy consumption.
One specific product that we recommend for its energy efficiency is our MRL Belt Elevator. Epic introduced MRL belt drive technology in India for the first time. This technology allows compact drive equipment to be installed directly into the hoistway and it helps cutting down on space requirements. It is combined with the advanced software which enables energy-efficient approaches like destination dispatch, real-time wait-duration control, standby, and grid response.
How do you ensure maximum uptime when it comes to your mobility solutions?
When it comes to elevators, clients prefer the ones that offer maximum uptime. In order to offer the same, we collect data on components, systems and performance and then work with this data to improve our products' performance. With our highly qualified team of professionals, we manufacture elevators with the best in class raw materials and technology at our state of the art facility. When this approach is combined with our excellent after-sales service, it helps us in ensuring maximum uptime and longer product lifespan.
What level of customisation do you provide to your clients?
Customising elevators according to the interiors and design of a building is trend these days. We provide elevators for various segments like bungalows, apartments, high-rise buildings, low and mid-rise buildings, hospitals, car parking and more. Clients from every segment have a different requirement. Epic customises in terms of interiors and exteriors, technology, safety and more.
How can elevators be used as an advertising medium to offset maintenance cost, what are your specific products in this range?
Elevator branding too is also an emerging concept in India. Today, we see skyscrapers emerging all around the urban spaces.  Be it residential or commercial, these skyscrapers have huge traffic flow. The people visiting or living or working at these buildings spend a portion of their time in the elevator. This gives the advertisers a spot to communicate their messages better and that too to a specific target group. For the builder this is an opportunity to encash. The money earned through advertising in the elevator can help him compensate for the expenses he incurs on the maintenance. 
We provide a range of elevators and for a range of verticals. So it depends on our clients if they want us to design an elevator with scope for branding. We are always happy to customise according to our clients' needs.
11