Grafdoer: The new kid on the block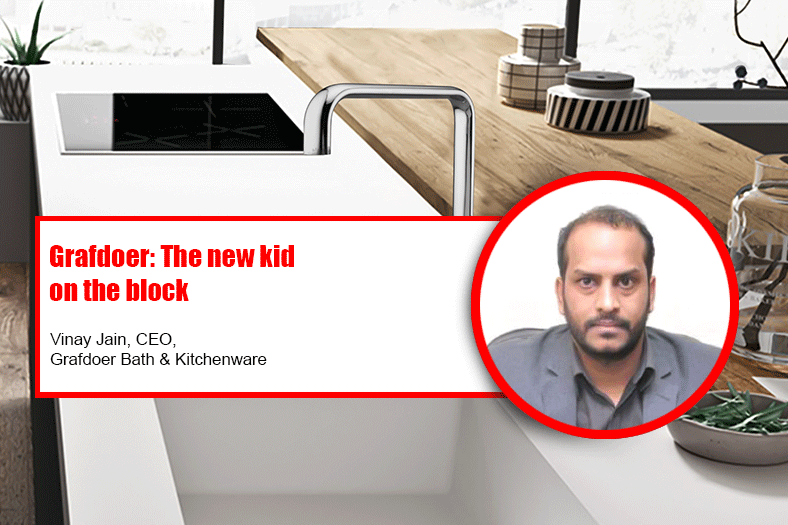 Grafdoer provides modern, affordable, stylish bathwaters and sanitary ware and is making rapid strides in various states across India says Vinay Jain, CEO, Grafdoer Bath & Kitchenware.
How do you see the market opportunities in luxury bath and sanitary fittings in India?
Grafdoer has very good expectations from Indian market. Earlier bathroom furnishing was hardly the focus area for the Indian consumer but off late Indian consumers has started beautifying their bathrooms. Bath fittings market in India has evolved over the decades from being perceived as merely a functional value product to one which offers exciting features and completes the bathing experience.
The advanced range of bathroom solutions comprises bath tubs, basins, shower accessories, faucets etc. with increased emphasis on luxury, style and elegance. Rising disposable incomes and change in lifestyle have raised the demand for luxury and modern bath fittings and accessories in the Indian market. Among the top sectors which have powered this change are housing, healthcare and hospitality. Growing demand for premium bathroom fittings has also drawn the interest of international brands. Now, many international brands are also entering the Indian market.
Nowadays, modern bath fittings with single lever, thermostatic mixer are getting more popular day by day and a drastic change that one can see is in the ceramic products market. For example, Matt colour and electroplated colour basins are becoming increasingly getting popular.
Considering that brand Grafdoer is relatively new, going forward what is your marketing strategy to increase your market share?
Yes, Grafdoer is relatively a new brand and we have successfully managed to gain visibility across different states in India. We have been achieving this through various platforms like print, electronic and online media.
Our strategy is simple – we aim at increasing the width of our distribution channel along with counter share of counters, which will eventually help us in gaining the market share. Karishma Sharma (Indian actress and model), our brand ambassador has helped us in a lot of ways in promoting the brand and we will keep on investing on the same.
When it comes to luxury sanitary and bathroom offerings, what is the uniqueness of brand Grafdoer?
Our uniqueness is "We provide modern, affordable and stylish bathware and sanitary ware, all of which is 'Made in India'."
What are some of the finer points to keep in mind while selecting luxury products for the bath and sanitary spaces?
Whether a consumer buys a luxury or an economy product the concern remains the same that it should be value for money, and must have a strong after sales support. Other aspects of design, style, shape, color etc. depends on the individual's choice. One important aspect while buying colour bath fittings is that, customer should be aware about the aspect of whether the product is electroplated or sprayed colours have been utilized. One needs to be aware the latter may get worn out soon and the luxurious effect it generates disappears. The most important thing for luxury bath fittings and sanitary ware is – what has been fitted inside it, what type of a material is used in the manufacturing of the product, how last long is the functional hub which is as important as the look, style or finishing of a luxurious product and we are equally balanced at both aspects.
What are some of your latest products which have received an overwhelming market response?
Some of the latest products are – Thermostat diverters, new range of coloured taps, self-cleaning and temperature-controlled showers, unique health faucets, kitchen sink faucets with water options warm, hot and RO water outlet, R10 Bathroom sinks of 304 SS grade with 1.2 mm thickness, etc. which has received an overwhelming response from the market.
32