High-rise facade cleaning made easy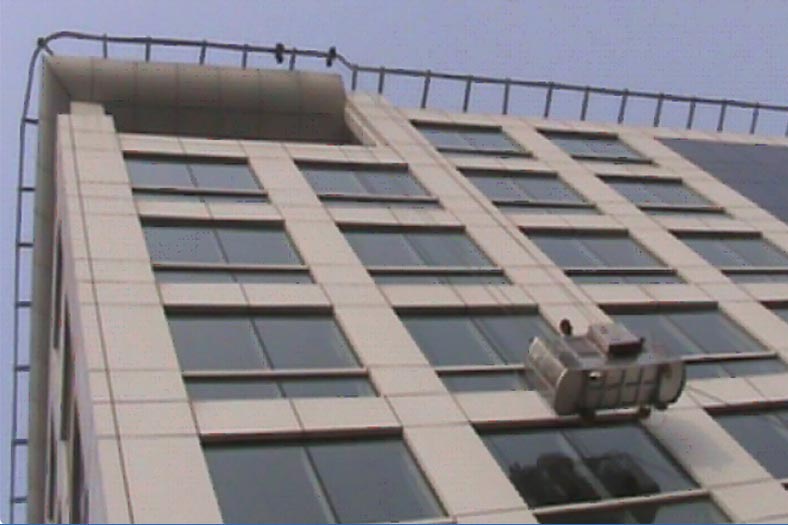 A detail analysis on how do skyscraper facades get cleaner.
A skyscraper facade plays an important part and it has not only to look good but also has to be cleaned on regular basis. Cleaning skyscraper facade is a very challenging task as it requires safe and right access equipment—but this challenging task now can be made very easy due to awareness in the industry about aerial work platforms (AWP) which are considered as safe for using at heights. Let us understand how AWPs help get skyscraper facades get cleaner.
Maco Corporation, authorised distributors of Genie AWPs, provides the safest solution for keeping the facade clean, states Krishna Patel, Access SBU, Manager – Marketing, Maco Corporation (I) Pvt Ltd. Genie provides various options based upon the applications for cleaning the facade safely. Maco Corporation, with experience of over 15 years in access industry in India, does not only help customer to choose correct AWP for their application but also trains the operator to operate and maintain the machine. "The aspect of training the operators is something which is most neglected and leads to unsafe operation and frequent breakdown," Patel adds.
He adds, "Safety at height is the basic requirement for any application. With most of the buildings opting for glass facade, keeping the facade clean with safety becomes a challenge. Every year many accidents occur due to non compliance of safety while working at height and most of the accidents are not reported in India. Over past few years, with safety awareness across the industries, powered access like scissor lifts or boom lifts usage has increased many folds."
While explaining how skyscraper facades get cleaner Patel says, "Genie push around AWP and battery operated self propelled vertical mast platforms are popular among hospitality industries for facade cleaning. For cleaning the facade with more than 30 ft, Genie battery operated and diesel engine operated self propelled articulating boom provides the best and safest solution. In case the articulating booms needs to be used at various places, Genie, TZ booms (Towable Articulating Booms) comes in handy, as it can be towed behind a pickup truck from one place to another."
The special architecture design in the front and exterior side of any tall buildings is known as skyscraper facades. "Generally cleaning of these facades is being done by Spiderman kit and suspended platforms. Both the systems occupy lot of space in terrace, not the safest and become unproductive in the buildings which are having special architectural designs. The reach of these Spiderman kit and platforms are also limited based on the design of skyscraper facades," informs Rajesh Kanna, Product Head – Aerial Work Platforms, Gemini Power Hydraulics Pvt. Ltd.
AWP is specialised self driven equipment, having a working platform on the top to carry 2-3 persons in the range between 12 to 73 metres (up to 25 floors).
AWPs are the best choice for any design and types of skyscrapers get cleaned. It provides more access, horizontal reach, safest and fastest to complete the cleaning cycles.
AWPs are self-driven in any terrains and can cater many tall buildings, unlike other cleaning systems which are permanently mounted in only one building.
Kanna shares other advantages of AWP:
• AWP is the best choice for existing buildings and no civil work is required.
• It is useful for larger areas like IT parks, big malls, hotels and commercial buildings.
• AWP comes with all safety features to ensure the people are safe and comfortable while working at maximum heights.
• AWP can be used for rescue (in case of emergency) also as it is not mounted on buildings like other cleaning systems.
• Addition to that AWP can be used for atrium cleaning, electrical maintenance (Indoor Application).
He adds, "IT companies (TCS, CTS, Infosys), malls (Phoenix) already started using AWP for cleaning of their facades. It is a new technology for skyscraper cleaning which will be best, safest and fastest. AWP has wider ranges and is having more options. So buyers can choose any model based on their building design, application. Gemini provides technical suggestions for suitable selection of AWP model based on skyscraper's design."
When a person is observing a high-rise building the most prominent part of the building is the façade if it is dirty one gets a very bad first impression of the building. This is where Appletree comes in, the company is an integrated façade access company that helps builders and owners solve this exact problem by providing sophisticated machines to access the hard to reach areas.
Sunil Malhotra, Managing Director, Appletree Building Maintenance (P) Ltd explains: There are different types of systems that are used to clean and maintain the outer and inner façade of a high-rise building. The most effective and efficient way is to install a single machine called a building maintenance unit (BMU) which is an automatic, remote-controlled, or mechanical device, usually suspended from the roof, which moves systematically over surface of a structure while carrying human window washers in a safe basket often called as a cradle or gondola, to maintain or clean the facade. These units are made from steel and usually have a design life of 50 years. Various combinations of the BMU are designed as per the building requirements. These normally will have four heavy duty wheels with two of the front wheels powered with electric geared motors are fitted to move the machine on the track or the surface. There are different types of BMU's customisable as per the requirement of the building; some of them are fixed Jib, swiveling jib, luffing jib and telescopic Jib.
The other system which is preferred by builders in India is the Monorail system. Monorail is a single-track system, where the cradle is suspended directly below the track with a drive system which moves it horizontally along the tracks. There are two types of Monorail, one is face mounted and ceiling mounted. The Monorail incorporates trolleys that allow the system to remotely control the horizontal movement and the cradle is mounted on these trolleys by steel wires.
192