Skyscrapers with a need for speed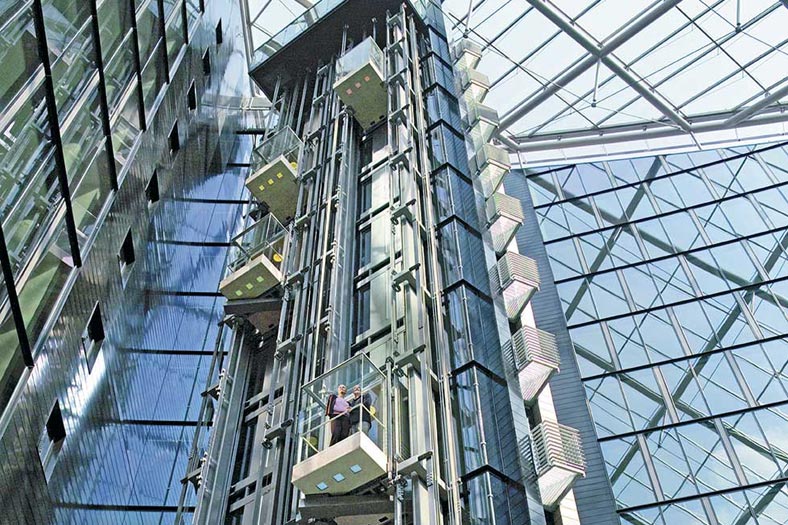 Featuring some of the ultra-fast elevators for skyscraper.
High-speed choice for skyscrapers
In today's world, everyone is in a rush to get to the top. Sonic is Thyssenkrupp's extra-fast passenger elevator running at a maximum speed of 12 metre per second. It is the perfect high-speed choice for your skyscrapers, office towers or other tall buildings where passengers need to rapidly reach great heights, assures Bharat Vishnani, Managing Director, Thyssenkrupp Elevator (India) Pvt Ltd. He adds, "Sonic's high-performance drives and aerodynamic cabins get you there in no time at all. Customers can opt for an eye-catching, highly customisable, trend-setting panoramic car design or combine sonic with our TWIN elevator for a truly one-of-a-kind solution."
'Fastest' double-deck elevators by Otis
Otis has provided elevators and escalators to many of the World's Tallest Buildings. Therefore scaling heights is familiar territory. Some of the iconic world structures with Otis elevators include Eiffel Tower, The Empire State Building, Burj Khalifa, The Shanghai Financial Centre, and The Petronas Tower.
The Burj Khalifa is one of the most talked about architectural structures in modern times. The unique design and engineering challenges of building it have been featured in a number of television documentaries and have gone down in history books. Otis Elevators have applied their innovative solutions and expertise to meet the technical challenges that the Burj Khalifa presented, a unique project that the entire world had its eyes on.
"Otis takes pride in getting the opportunity to apply their innovative solutions and expertise to meet the challenges of iconic Burj Khalifa project. Not only was this a technical challenge that had never been attempted before, but it was also a project that the entire world had its eyes on," informs Sebi Joseph, President, Otis India.
The Innovative Solutions
The building was segmented into zones. Each elevator zone served different audiences – from visitors to office workers, to hotel guests, to residents. The efficiency of the system was maximised, by the use of a sky lobby system. The sky lobby is an intermediate floor where residents, guests and office staff will change from an express elevator to a local elevator, which stops at every floor within a specific zone of the building. The elevators were strategically grouped to align with the floor layout, offering passengers a direct express service to their sky lobby destination by bypassing other floors.
The building features 65 Otis elevators and 8 Otis escalators. In designing the tower's vertical transportation system, Otis engineered the world's fastest double-deck elevators of the time. They reach the observation decks on floors 124 and 125 in just 60 seconds, travelling at 10 metres per second.
In 2015, the two double-deck elevators to the observation decks on floors 124 and 125 reached an impressive milestone, having travelled a total of 384,400 kilometres since the building's opening in 2010 – equal to the distance between the Earth and the moon.
Otis programmed certain elevators for controlled evacuation in case of emergency, the first ever installed in a mega-tall building.
The Technology
The Gen2 family of elevators is also fitted with a belt monitoring system, the PULSE which electronically monitors the status of the belt 24/7, 365 days a year. This means that an issue can be pre-empted and attended to, before an actual breakdown. This results in minimal downtime, which is essential for a building like the Burj Khalifa and the clientele it serves.
SkyRise
SkyRise is Otis's premiere high-speed elevator system, designed and engineered for the world's most prestigious skyscrapers, like Burj Khalifa, as well as high-rise residential and commercial buildings. SkyRise offers a unique combination of industry-leading technologies, flexibility in design, speed in construction, superior passenger experience and global organisational support. With a maximum duty load of 4,500 kg and a top speed of 12 m/s Skyrise is designed to be the preferred choice for the tallest buildings in the world.
As skyscrapers get taller, elevators are getting faster
If this elevator was any faster, they'd have to strap you into a special couch like those used on the space shuttle. Going down? By the time you get to the ground from the top floor, your stomach will still be waiting at the top.
We thought that elevator zipping us to the high floors of the Empire State Building was fast, but this one in the Grand View Hotel & Tower building is any day faster than that. This one moves so quickly, it needs to be aerodynamically designed, roaring from the Lobby floor to the 40th floor at a breakneck speed of 25 kilometres per hour. So is that treacly music they're playing supposed to make our descent seem even faster, or magical?
Grand View Hotel & Tower building, part of a High Street Commercial complex in Guangdong, is a 44-storey building designed in the modern style, with vertical transportation by Japanese conglomerate FUJI. Grand View Tower includes 12 high-speed gearless elevators capable of speeds up to 25 kilometres per hour. Manufactured at Fuji's factories in Guangdong and Japan, they include permanent-magnet synchronous gearless motors from Japan, designed to improve operational efficiency and conserve energy by reducing power loss. According to Kulvinder Singh Bansal, Director, Sophus Elevators, "Contrasting with a conventional induction motor's design, Fuji high-speed gearless elevators run at the actual elevator speeds, providing increased efficiency. The units also include double disc brakes for precise control."
The elevators' tall cabins have etched stainless steel designs. Their automatic light dimming and automatic power off for lights and fans also contribute to the systems' energy savings. Advanced safety functions limit the possibility of abnormal speed and overloading, and the entrance is equipped with multi-beam door sensors and additional safety features. "Fuji's Flexible Artificial-Intelligence control system optimises call assignments and forecasts waiting time," informs Bansal.
Fuji has one of the highest quality rankings in Japan. Known for its ultra-high- speed elevators, the company is expanding its sphere of activities to various growing economies like India, where its products will be involved in transporting millions of people daily. Guangdong Fuji Elevator Company Ltd., regional headquarters of FUJI and escalator business in Southeast Asia, India and the Middle East, organises business strategies from a global point, optimising its supply chain, design and manufacture.
Sophus Elevators Pvt Ltd, the Indian arm of GD Fuji, was founded in 2008 to deliver high quality elevators and services to Indian customers. Sophus has received many orders from Rustomjee Group, Raheja Group, Akshar Developers, Reliance Industries, J W Marriott, Ruparel Realty and others. The company has operations in Mumbai, Delhi, Chennai, Kolkata, Jaipur, Chandigarh, Pune, Nasik, Hyderabad, Ludhiana, Surat and Bengaluru, and plans to expand to other cities in India.
6