Metallic paint can work as a great alternative to wallpaper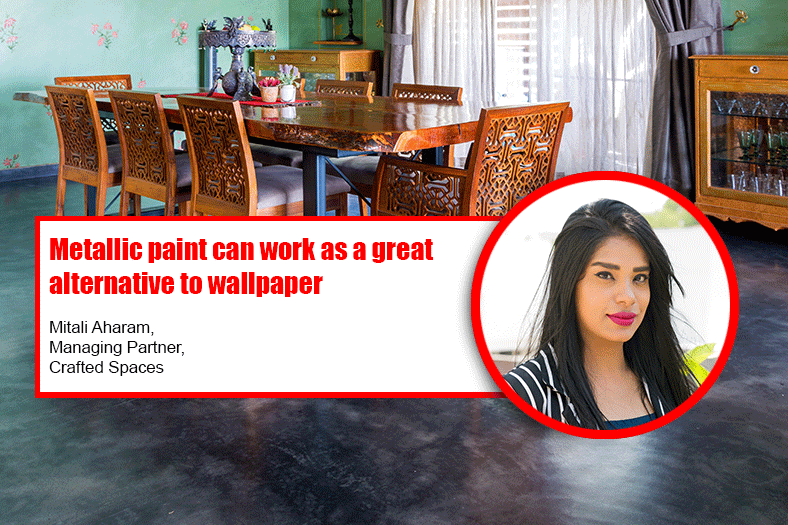 The key while using metallic paints is balance and using it only in a limited amount of walls or treating some feature walls with it will bring out the effect. We have used it in some ceilings and it looks great when the light reflects off it says Mitali Aharam, Managing Partner at Crafted Spaces
What are some of the popular painting techniques to style up the walls?
Colour washing is a great way to add depth to space. Textured wall paints is another popular technique to add depth to your walls and make them look like a canvas using techniques like distressing, sponging, creating the effect of stucco and marble.
Ideally, how long after priming should a wall be painted?
Most primers dry within 30 minutes to an hour. But that depends on the humidity and temperature of the area, its best to wait up to two hours before painting.
When it comes to branded paints, what are your favourite brands?
Asian paints and Wonderman are two brands we love working with. We use a lot of hand-painted artwork in our projects, Wonderman is very popular among the artists and most projects are a mix of these two brands.
What kind of projects or spaces are best suited for the use of metallic paints?
Metallic paint can work as a great alternative to wallpaper to give a more layered look. Earlier most of the hardware industry office spaces used to prefer metallic finishes, lately they are being used in residences as well. The key is balance, using metallic only in a limited amount of walls or treating some feature walls with it will bring out the effect. We have used it in some ceilings and it looks great when the light reflects off it.
What are some of the best interior paint colours for workspaces?
Colour influences the mind; the primary colours used in moderation with the right balance to neutral backdrops work well for office spaces. Low wavelength colours like blues and greens with neutral colours balanced out with some pops of bright colours like red and yellow in the breakout spaces, pieces of furniture, storage units and artwork would be ideal for a workspace. The greens can be brought in with some plants, to make the space feel more alive. A lot depends on what the working style, ethos, work culture of the office is, as well.
Kindly tell us about the recent projects you are working on?
We are working on the interiors and hardscaping for a commercial building. There is an upcoming furniture store that we are very excited about as it's almost ready for handover. The work on a few residential projects, villas and apartments is already underway.
8