The construction of high-rises has brought to the fore numerous innovations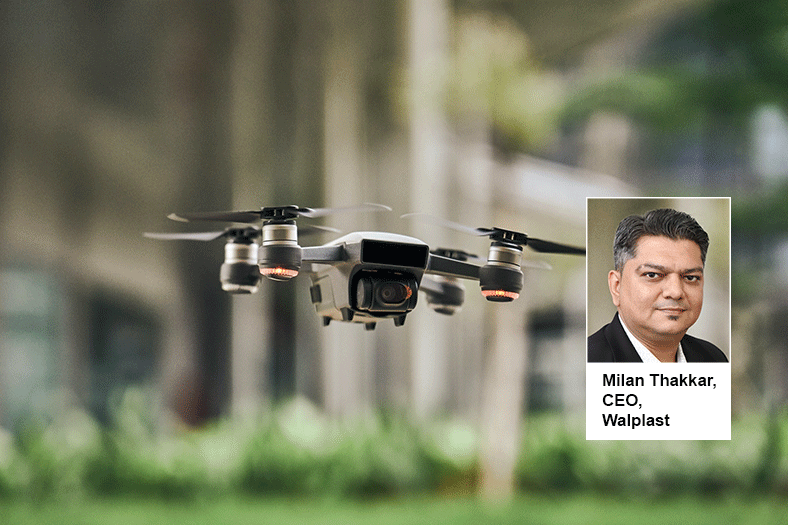 The rise of high-rises in the city skyline across India and the globe is driven by several innovations and advance approaches in building and construction.
In 2019, the number of high-rise building launches accounted for 52 per cent of the 1,816 housing project launches across 7 cities, as per an ANAROCK report. Amongst the cities, Mumbai Metropolitan Region (MMR) topped the list with over 75 per cent of the total 734 projects launched in the same year. The report stated that increased inward migration and demand from the well-to-do for 'sky villas' has led to the rise of high-rise building trends. This trend is also supported by several innovations and advances in the construction of such tall buildings. This advancement has been brought forth by manufacturers and solution provider across the world over the years. Below are some of the innovations that are currently in use in India as well for the construction of high-rise buildings:
Prefabricated Materials
There are several innovative methods being utilized for the construction of high rises. One of them includes the Broad Sustainable Building (BSB) Prefabricated Construction Process. Through this process, a factory fabricated steel structure system is utilized for on-site installation wherein flanges and high-strength bolts are used to join the construction members. It also includes other prefabricated materials such as integrated and installable floor slabs and light wallboard. This gives builders the advantage of resistance to magnitude-9 earthquake, fives times energy efficiency over conventionally built structures at 1030 per cent lower cost. The process also produces less than 1 per cent of waste in comparison to the conventional methods. Structural Solutions.
The Megastruss Seismic Isolation Structure is a solution provided by designers in Japan wherein they built a multi-purpose high-rise and were able to resolve two unique requirements. The designers used an intermediate structural solution that transfers forces safely through transition. As part of the program, the designers constructed a concert hall out of reinforced concrete walls to form a rigid frame that supports sound isolation and acoustic performance. Above it, they build offices which are ideally column-free for maximum flexibility. The intermediate seismic isolation comprises of a megatruss with diagonals, mega columns, belt truss, lead rubber bearings and oil dampers which enabled contrasting requirements to coexist in the same building. This allowed the designers to construct an unprecedentedly tall seismically isolated building that integrated base isolation and transfer systems into isolated systems in a high seismic area.
Drones in construction
Drones are increasingly being used in the construction industry as it provides far more uses than just aerial photography for real estate and commercial efforts. Drones are increasingly being used for mapping large areas over long distances and providing valuable heat maps and thermal images. Drone softwares are rapidly providing real-time data that helps in making quick decisions and streamline the entire construction process.
Drones are also utilized for personal and equipment safety and are increasingly being used for doing jobs at certain heights in place of human workers to prevent injury or death. As on-site security, drones are being increasingly used to reduce labor costs and minimize the risk of theft. In the coming years, drones will be used for organizing and monitor use of construction equipment with the help of AI.
Augmented Reality
The global augmented reality (AR) market is expected to reach $8 billion in 2020 and will likely touch $100 billion by 2024. AR provides several efficiencies and uses in the construction sector from project staging to making tangible pre-construction projects for buyers and tenants. AR has enabled Indian builders and real-estate developers provide 360-degree videos to enable 3D visualization of projects, automated measuring of buildings, affordable simulation of architectural and structural changes as well as simulations on safety training and hazard.
Construction Management
Building Information Modelling (BIM) is helping industry leaders stand out with better efficiency and is allowing Indian developers to generate computer representations of buildings and utilities. The simpler management of such models and data is helping enable superior prefabrication of parts, which in turn leads to on-time and accurate completion of projects. 
BIM coupled with construction management software is vital for remaining competitive, building a valuable business and mastering operational efficiency. Such software helps in holistically tackling end-to-end needs from RFIs to compiling data, sharing files with mobile teams, budgeting, document storage, payroll, monitoring inventory and enhancing project management. Such tools play a vital role in the construction of high-rise buildings. 
For more details, contact:
Milan Thakkar,
CEO,
Walplast
www.walplast.com
6